Posted on
May 19th, 2010
by jxh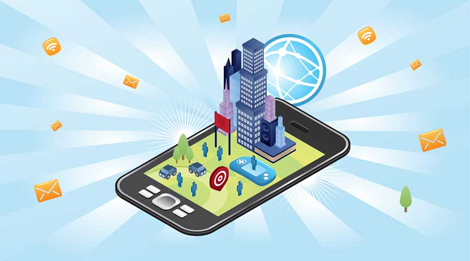 Think your cell phone is cool now?  With new ground-breaking enhancements, mobile phones are getting cooler than ever before.
Engineers are capitalizing on the recent popularity of 3-D technology in movie theaters by creating a cell phone that projects 3-D images, and without having to wear any goofy glasses. Although it appears to be an average smart phone, when it is moved from a vertical to a horizontal orientation, the image on the screen becomes 3-D.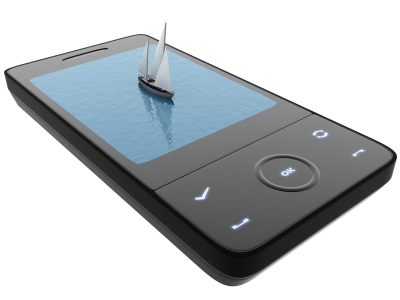 The software company Dynamic Digital Depth has spent more than a decade perfecting the software, which synthesizes 3-D scenes from existing 2-D video.
The technology works by directing light to deliver different versions of an image in each of the viewer's eyes. This strategy works well for cell phones because they are usually used by one person at a time and can be easily held at the optimum angle.
Video games have the greatest potential to take advantage of this new technology, as hundreds of games simulate 3-D space to create their 2-D displays.  This will make it easier for the software to estimate the depth of objects and will advance the gaming experience towards the ultimate goal of virtual reality.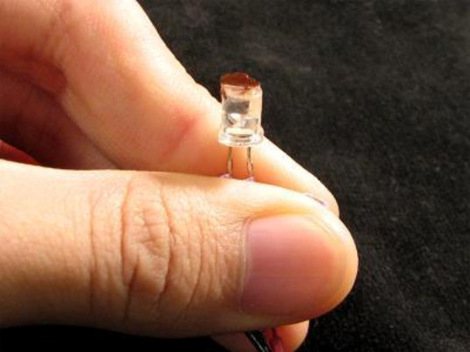 A tiny silicon chip can be engineered to detect toxins (Sailor Lab/UCSD)
While 3-D images are an exciting new feature, scientists from the University of California, San Diego are hoping to save lives with their innovative anti-bioterrorism cell phone feature.
The UCSD scientists have created new sensors that detect the presence of certain chemicals, and they hope to embed them into cell phones in order to fight bio-terrorism, map out chemicals' locations, and alert emergency responders.
The new type of sensor is extremely porous, so when air passes over it, the mechanism changes color depending on the chemical it detects.
This technology could help firefighters identify the presence of carbon monoxide, letting them know to switch on their oxygen masks, and it could also alert miners of a buildup of explosive gases.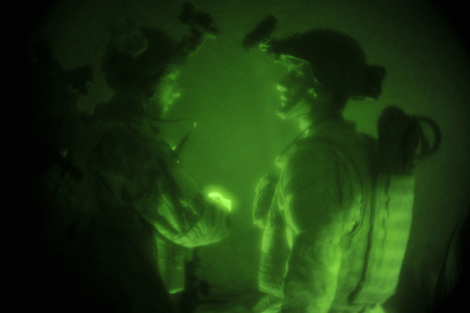 U.S. Airforce joint security force at night (isafmedia/Flickr)
At the University of Florida, researchers have developed another cell phone application: a night vision imaging device that can be used for phone cameras.
The device uses organic LED technology found in mobile phone or laptop screens that is paper-thin, lightweight, and inexpensive to produce.  Night vision goggles, on the other hand are bulky, heavy, and can cost thousands of dollars.
In standard night vision goggles, a photocathode converts infrared light photons into electrons and drives them into a phosphorous screen, which produces greenish images of objects.  With the new device, a simple photodetector converts the infrared light photons into electrons and injects them into an LED, which generates visible light instead of the green images.
Other cell phone advancements include Nokia's effort to create human-powered cell phone chargers and the exploration of new interfaces for touch-screen phones. Our only question is, what's next?
Filed under: Computer, e-News, Electrical
Tags: 3D, Chemical, Computer, Electrical, Technology