Posted on
May 19th, 2010
by jxh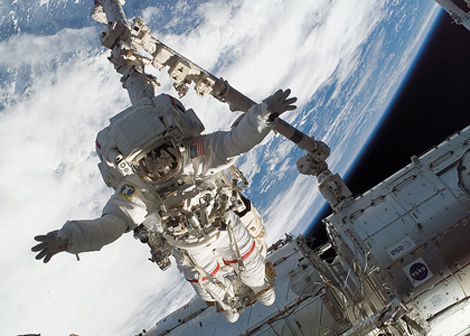 While a vacation and a hotel stay in outer space may sound exciting, you might not want to hop on that rocket ship just yet.
Commercial space flight, as well as the prospect of establishing a colony in space where humans can live and procreate, are being questioned by a recent study that reveals the heath hazards of living in space.
Australian scientists grew human stem cells in microgravity conditions, using a NASA-designed bioreactor, and compared them to cells developed under normal Earth conditions.
They discovered that 64 percent of the proteins found in the microgravity-grown stem cells were different from the proteins in the Earth-grown cells, and several of the unusual proteins cause bone deterioration.
Scientists have known that spaceflight wreaks havoc of the human body. It is estimated that astronauts lose about one percent of their bone mineral density every month they are in space. Astronauts also suffer from muscle loss, slower heart rates, and a decrease in anti-oxidant levels, which explain why wounds heal more gradually in space.
Discovery that stem cells produce problematic proteins under microgravity conditions could help explain the muscular and skeletal changes that astronauts experience, and it raises concerns about prolonged settlement in outer space.
Let's hear from you: What should engineers invent to make living in space more healthy? What solutions do you propose?
Image: NASA
Filed under: Aerospace, e-News
Tags: Aerospace, Space, Space Tourism