Posted on
May 19th, 2011
by jxh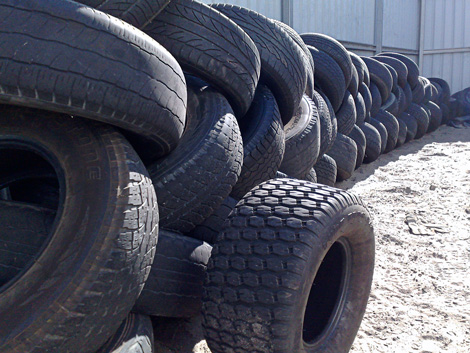 We have previously reported on many green initiatives related to building and roadway materials: smog-eating cement, concrete that can heal itself when it detects cracks, and pavement with solar-storing technology.
Now, civil engineers at Purdue University are working to design a cost-effective mixture for road construction and bridge support.
The lightweight mixture is composed of shredded tires and sand, and it is useful for supporting the area of roads and bridges that bears a majority of the weight or pressure, especially those areas built over soft, weak soil deposits. The mix can also be used as backfill behind retaining walls and to strengthen slopes prone to landslides.
According to a 2007 EPA report, 7.5 million tons of rubber end up as waste every year, most of it from vehicle tires. And only around 35 percent of tires are recycled. The Indiana Department of Transportation has used the new mixture on nine different projects and so far 1.1 million tires have been put to use, resulting in a material cost saving of $1.2 million.
On top of that, because the mix is more easily compacted than other materials, it uses less energy. And that's a money-saver too.
Image: vagawi / flickr
Filed under: Civil, e-News, Environmental, Materials, Transportation
Tags: Civil, Environmental, Green Technology, Materials, Transportation