Posted on
May 17th, 2011
by jxh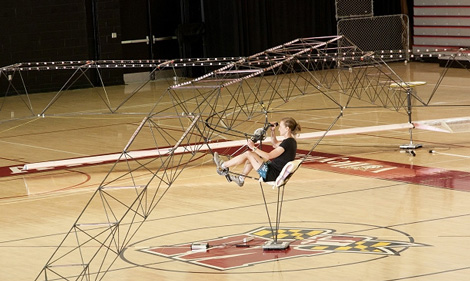 Judy Wexler, 24, is the first woman to pilot a human-powered helicopter
More than 30 years ago, the American Helicopter Society International challenged engineers to create a human-powered helicopter that could reach an altitude of at least three meters and hover for at least 60 seconds. Sikorsky Aircraft promised $20,000 to the winner. Now, they've upped the award to $250,000.
In pursuit of the elusive prize, a helicopter designed by a team of students from the University of Maryland became the third human-powered helicopter to successfully leave the ground, and the first to be piloted by a woman.
In that 2011 trial, it is estimated that the vehicle hovered above the ground for about four seconds. The other two attempts, one by students at Cal Poly San Luis Obispo in 1989 and another by students at Nihon University in Japan in 1994, hovered for 7.1 seconds and 19.46 seconds, respectively. In 2012, the Maryland team managed to keep its human-powered helicopter aloft for a record 65 seconds; the craft crashed in a Labor Day trial trying to achieve the required height, however. It's now in the repair shop. That same weekend, a Canadian team succeeded in getting its helicopter to hover for 15 seconds.
The U-Md. students' human-powered vehicle is a product of two years' effort and is named Gamera after a monstrous flying turtle that starred in Japanese films.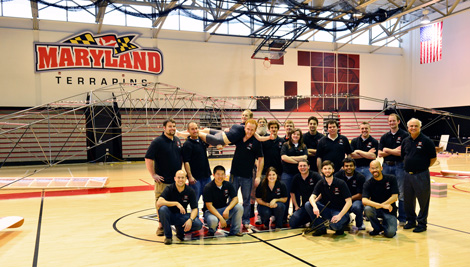 The Gamera team
Gamera is similar in construction to the helicopter built in Japan – it has a lightweight X-shaped frame with a set of rotor blades at each point, and the pilot is suspended in a cockpit in the middle.
However, its blades are about 30 percent longer than the Japanese model, and the students lightened the frame by using carbon fiber, foam, Mylar and other materials. They also added a hand crank, instead of solely relying on a foot crank.
This clip describes the team's approach to the challenge in greater detail:
The achievement is especially remarkable because a day before the vehicle left the ground, a large crowd of journalists and supporters watched as test flight after test flight failed to produce lift-off. Officials still have to review video tape from the flight to see exactly how long Gamera was in the air, but a representative of the National Aeronautic Association estimates it was about four seconds.
Here's a video of the successful test flight (test begins at around 3:00):
Images: Essential Eye Photographics
Filed under: e-News, Mechanical, Transportation
Tags: Aeronautics, Mechanical, Transportation