Posted on
May 12th, 2011
by jxh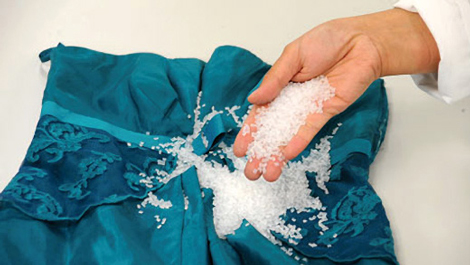 The average washing machine uses between 40 and 45 gallons of water per load of clothes. In addition, a large amount of energy is needed to heat the water. When you include the cost of laundry detergent on top of all that, you realize that washing clothes can be a pricey affair.
However, researchers at the British company Xeros Ltd have developed a new washing-machine technology that cleans clothes using a mere cup of water and just a drop of detergent.
The clothes rotate in the washer's drum with dirt-absorbing polymer beads, which are automatically separated from the garments when the cycle's finished.
Xeros claims the system uses 90 percent less water than conventional machines, and because there's no rinsing or spinning required, it uses 98 percent less energy than water-based washers.
Not only that, but even more energy is saved once the clothes are cleaned, because they will barely be wet – requiring much less time in the dryer. And the beads will be good for around 100 loads – about six months' worth of washing – before they need replacing.
Xeros hopes to launch commercial versions later this year. Could this give a whole new meaning to "dry cleaning?"
Image: PRISM
Filed under: e-News, Environmental, Materials
Tags: Environmental, Green Technology, Materials