Posted on
May 27th, 2010
by jxh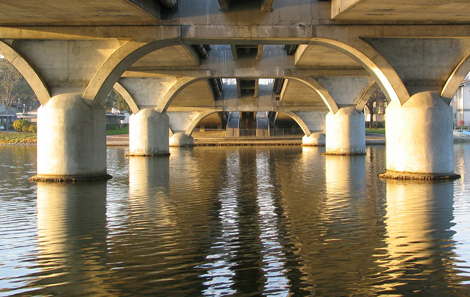 Cement is smarter than you think.  It can consume smog and kill pollutants in the air.
Now concrete is getting smart, too: it can report traffic flow, record the speed and weight of traveling vehicles, monitor its own structural health, and detect cracks.
Concrete is a building material that is composed of cement (a dry powder substance), water, and crushed rocks such as limestone, granite, or sand.
Mechanical engineers at the University of Minnesota, Duluth have been mixing piezoresistive multi-walled carbon nanotubes into concrete, which makes it highly sensitive to stress and able to emit detectable responses.
And if stress cracks do begin to form, the concrete can repair itself with an embedded healing agent, thanks to chemical engineers at the University of Rhode Island.  When cracks are detected, sodium silicate microcapsules rupture and create a gel-like material that hardens in about one week.
Self-healing concrete could significantly reduce carbon dioxide emissions, 10 percent of which results from concrete production.  The advancements could also help make bridges and other sensitive structures, such as nuclear power plants, safer.
Other new concrete technologies include translucent concrete and concrete panels with photographic images directly engraved on them.
How about that for street smarts?
Image: Peter Kaminski/Flickr
Filed under: Chemical, e-News, Mechanical
Tags: Architectural, Chemical, Environmental, Mechanical, Transportation