Posted on
August 30th, 2010
by axb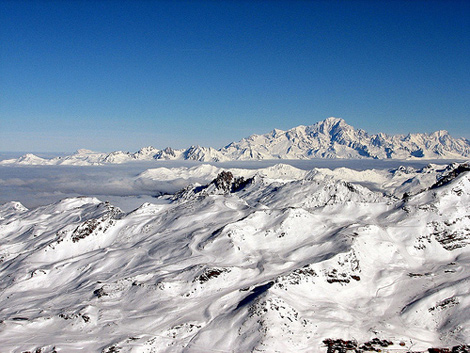 Mont Blanc from 10,500 ft.
In 1892, an immense amount of floodwater broke free from an Alpine glacier, engulfing a nearby village. Today, after the discovery of more water accumulated beneath the glacier, engineers in France are taking novel steps to prevent such a disaster from recurring.
The team of specialists plans to drill beneath the Tete Rousse glacier and extract about 65,000 cubic meters of water (that's enough to fill about 26 Olympic-sized pools!). The glacier lies near a popular hiking path on Mont Blanc, and is also close to a town of about 3,000 people.
With the use of careful drilling techniques and large pumps, engineers hope to relieve some of the water pressure that has built up inside the glacier over the past 100 years.
Now, if we could only learn how to stop volcanoes and earthquakes…
Image via *pascal*/Flickr
Filed under: e-News, Environmental, Ocean
Tags: Environmental, Ocean