Posted on
August 26th, 2010
by axb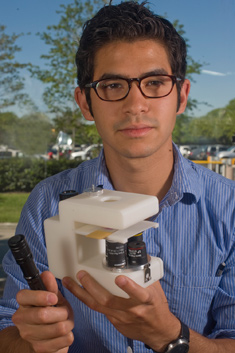 Traditional fluorescence microscopes (the ones you might find at your local hospital or in a medical lab) typically cost up to $40,000 and can take up more space than several desktop computers. That's a problem for doctors hoping to advance medical care in underdeveloped countries.
Cost and space were two issues that recent Rice University grad Andrew Miller sought to address when he invented a portable, battery-powered fluorescence microscope that costs only $240 to make. The novel device is encased in durable plastic that Miller molded with the help of a 3D printer. It's lighted and powered by a small LED flashlight.
To test the efficacy of his invention, Miller used the microscope to analyze a set of samples from potential TB patients, and produced the same results as the lab's standard florescence microscope 98.4% of the time.
Medical device consultants 3rd Stone Design have agreed to make 20 prototypes of the microscope for field testing.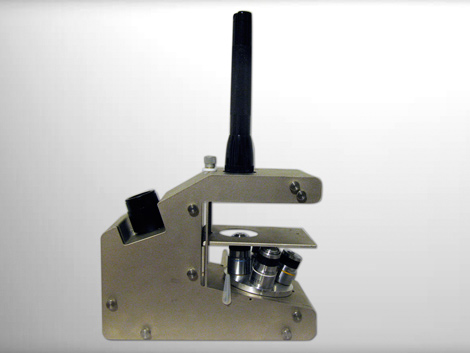 In a recent press release, Rebecca Richards-Kortum, a Rice professor of bioengineering, championed the importance of Miller's work:
"The World Health Organization estimates that 1.3 million people died from tuberculosis in 2008. Andy's microscope, which is portable, durable and inexpensive, could be used to diagnose tuberculosis in community or rural health centers with limited infrastructure in the developing world, promoting early detection and successful treatment of the disease."
Miller is now working at Thoratec in San Francisco, where he designs heart-assisting devices.
Another potentially lifesaving invention from Rice students
Images via Rice University
Filed under: Biomedical, e-News
Tags: Biomedical, Giving Back