Posted on
August 31st, 2010
by jxh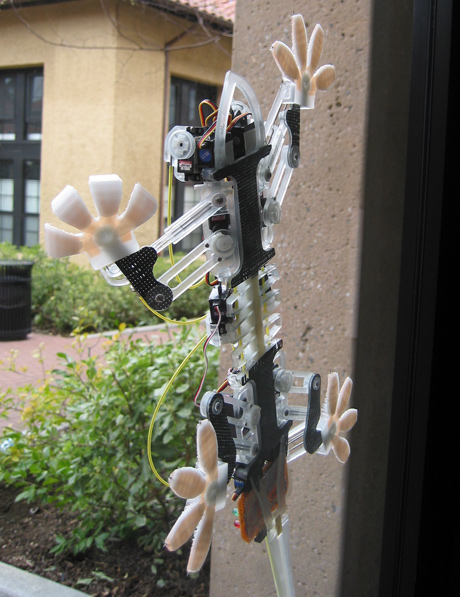 Has life got you climbing up the walls? Well, soon you may be able to do it for real – and as well as a gecko.
Geckos are able to stick to walls thanks to a technique called dry adhesion.  Each toe of a gecko's foot contains hundreds of flap-like ridges, and each ridge has millions of hairs (see the image below).
The tiny hairs are 10 times thinner than a human's and each one divides into even smaller strands called spatulae.  These split ends interact with the molecules of the climbing surface using the van der Waals force, and stick to it when pulled in one direction. If pulled in a different direction, however, the adhesive comes right off.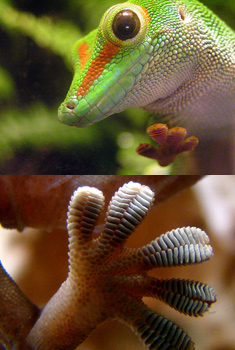 Now, Stanford University mechanical engineers have created a robot that will replicate a gecko's sticky foot in order to climb walls.
Previous robots have been able to scale rough vertical surfaces, such as brick or concrete, but Stickybot can grasp onto smooth surfaces such as glass and metal.
The Stickybot imitates a real gecko thanks to a rubber-like material that has tiny polymer hairs made from a micro-scale mold. The material is strong and reusable, and leaves behind no residue or damage.
Robots like Stickybot could be used to access dangerous or hard to reach places, such as collapsed buildings or supervillain hideouts.
A similar adhesive,  Z-Man, is also being developed for humans. Prepare to scale those walls!
Images:
BDML, Standford University
belgianchocolate/Flickr
Bjørn Christian Tørrissen/Wikipedia
Filed under: e-News, Mechanical
Tags: Biomimicry, Mechanical, Robotics