Posted on
March 10th, 2010
by jxh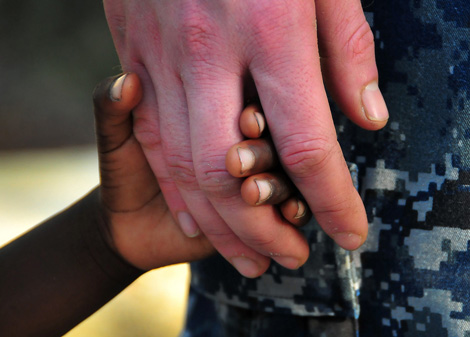 When it comes to helping the global community recover from natural disasters, engineers are at a distinct advantage. Not only can they build survivor-seeking robots and provide food and clean water for those affected, but they also have the ability to analyze the aftermath of a storm or a quake and help communities be better prepared for such events. Engineering students and professionals across the country are now using their skills to help rebuild the countries of Haiti and Chile after their recent devastating earthquakes.
More than half of Haitians do not have access to clean drinking water, so students have been working to bring in new water filtration systems. Partnering with the organization Engineers Without Borders, students from the University of Central Florida had installed five water filtration systems before the earthquake struck. Uncertain about the extent of damage these systems may have suffered recently, the Florida group plans to return to repair them, as well as to install twenty-five more.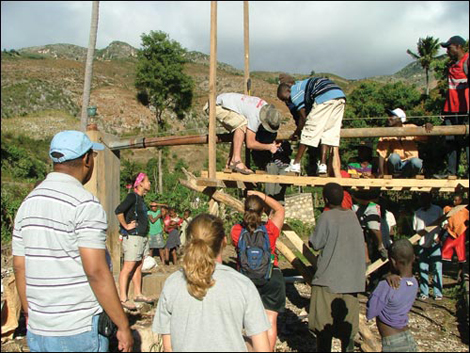 UW-Madison Engineers Without Borders students help Haitians repair a
water pipe. Image courtesy of Eyeleen Chou and Wisonsin Builder magazine
Engineering students from the University of Wisconsin–Madison felt the tremors of the Haiti quake firsthand, although at 70 miles north of Port-au-Prince, the village where they were working was largely unscathed. The students left soon after the quake as they did not want to become more mouths to  feed. But now they're eager to return to rebuild critical waterlines and bridges.  The experience has deeply affected all those involved. Senior Tyler Lark is quoted in the Wisconsin Builder as saying, "Working in Haiti has given meaning to my undergraduate career."
Meanwhile, engineers from the University of California-Berkeley are gearing up to help the victims of a more recent earthquake – the massive 8.8 magnitude tremor that shook Chile last week. A 16-member team from the Geo-engineering Extreme Events Reconnaissance Association is being deployed to work alongside Chilean engineers, to study the damage patterns to learn more about how buildings and infrastructure react to seismic stress.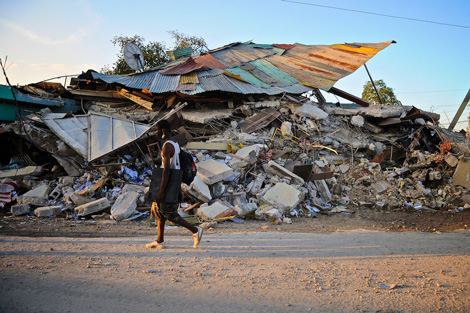 Port-au-Prince, Haiti. January 20th, 2010
While it may take years for Chile, and possibly decades for Haiti, to fully recover from these earthquakes, engineers also have the opportunity to rebuild the affected cities to be better, faster, stronger, and more resilient.
Learn more:
– Listen to Alex Moseson talk about his experience with Engineers Without Borders.
– See a group of students discuss their water project in Cameroon.
– And meet Regina Clewlow who started Engineers for a Sustainable World.
Images:
DVIDSHUB/Flickr
Eyeleen Chou/Wisconsin Builder
newbeatphoto/Flickr
Filed under: Agricultural, Architectural, e-News
Tags: Agricultural, Architectural, Earthquake engineering, Giving Back