Posted on
April 21st, 2011
by axb
Qatar, a small Middle Eastern country that has been designated host of the 2022 World Cup, is not known for its mild summers. In fact, temperatures in July regularly average over 115 degrees F (50 degrees C), which presents a serious challenge to the event's organizers.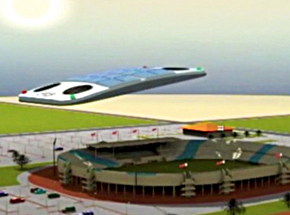 But not to fear – engineers from Qatar University's Department of Mechanical and Industrial Engineering have a clever solution. Over the next 10 years they plan to develop an artificial cloud that will hover over the soccer stadium and provide crucial shade to players and audience members.
The cloud will be made out of lightweight carbon fiber material, and kept in the air by four solar-powered motors as well as pockets of helium. The whole apparatus is remote-controlled and able to adjust its angle as the sun progresses throughout the day.
Costing about $500,000, according to Wired, the cloud could still keep the crowd sweating. Associate Professor Saud Ghani tells CNN it would lower temperatures by about 10 degrees. But Qatar plans to cool the stadiums further with solar-powered air conditioning.
For a closer look at Lusail Iconic Stadium, one of the stunning, eco-friendly venues planned for 2022, watch this video:
Image: Qatar University
Filed under: e-News, e-Videos, Environmental, Industrial / Manufacturing, Materials, Mechanical
Tags: Environmental, Industrial, Materials, Mechanical, Sports