Posted on
May 3rd, 2011
by axb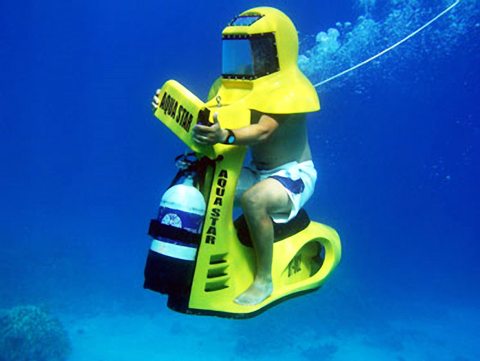 Hankering for an undersea adventure this summer? Since catching a ride on the Virgin Oceanic sub is out of the question, a good alternative might be trying the new and somewhat hilarious-looking Aqua Star underwater scooter.
The AS1 (pictured above) is a one-person underwater vehicle that can cruise at up to 4 mph as riders take in marine vistas. Its creators claim that it was made to "provide the scuba diving experience to virtually anyone," since it requires no special training or certification to operate.
The scooter runs on rechargeable electric batteries that last about 2.5 hours on their own, with a maximum depth of about 40 feet. Divers wear an air supplying helmet that can provide up to 70 minutes of oxygen.
Want to bring your best friend along? The AS2, a two-person vehicle, will allow you to behold and bewilder marine life in tandem.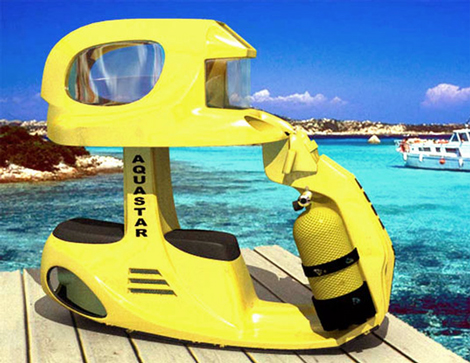 Although rental locations only exist in Thailand, Israel, and Egypt at present, we're hoping that Aqua Star will soon scoot its way over to the United States.
Now the only troublesome question is, when will we need to start protecting ourselves from roving gangs of underwater scooter pirates?
Watch some test drives below:
Images: Aqua Star
Filed under: e-News, Ocean, Transportation