Posted on
March 1st, 2011
by jxh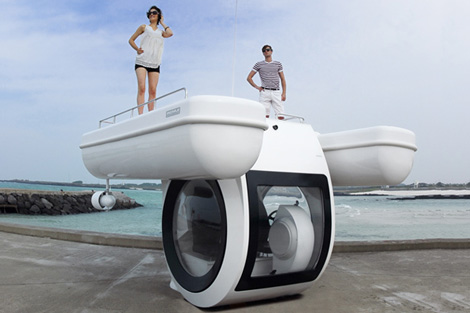 Drivers often encounter wildlife along the road. But what if instead of the usual birds, deer, and squirrels,  you could cruise alongside fish?
That vision is now a reality with the electric submarine EGO, which literally puts you face-to-face with underwater wildlife.
The EGO, designed by South Korean manufacturer Raonhaje, was unveiled at the Miami International Boat Show during President's Day weekend, and it made a big splash.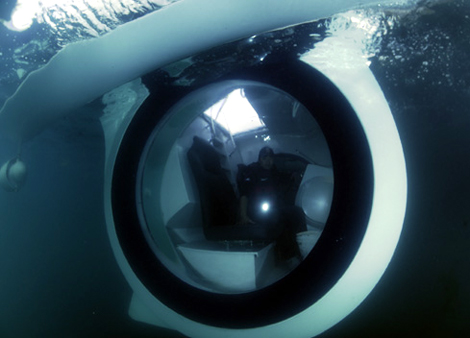 The personal semi-submarine has an underwater cockpit with walls made of thick, acrylic glass. Above water, the central hull has two pontoons for buoyancy, leaving room to relax and sunbathe. There also is a high-resolution camera linked to an LCD monitor in the cockpit, so captains can enjoy the sunny view from below deck.
The EGO's big draw is that anyone who can drive a car can operate the submarine. Instead of a typical boat-style throttle lever, there is a foot pedal located under the dashboard, just like a car. There's also a steering wheel, and a simple forward/backward toggle switch.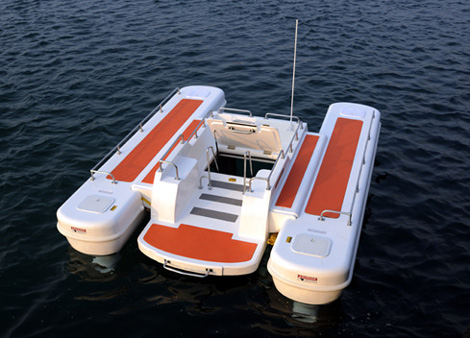 Powered by an electric motor, the sub can run for eight hours at cruising speed (or four hours at 4 knots, the boat's top speed), and it can run a total of six to nine hours on a single charge.
The EGO will be available to consumers in seven different colors, and goes on sale October 2011. A price has yet to be announced.
Images: Raonhaje
Filed under: e-News, Electrical, Mechanical, Ocean, Transportation
Tags: Design, Electrical, Green Technology, Green Transportation, Mechanical, Ocean, Transportation