Posted on
April 28th, 2011
by axb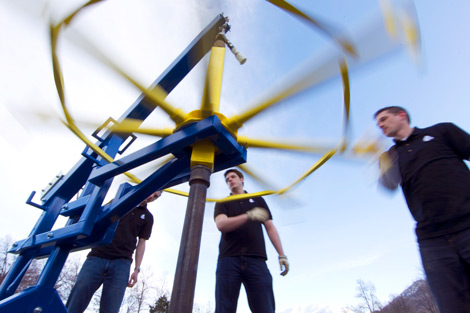 Seven engineering students designed a water drill that might improve the lives of millions.

Lack of sanitary drinking water is a serious and well-known problem that continues to plague many third-world nations. In Tanzania alone, over 800,000 people do not have access to clean water.
A group of seven engineering students from Brigham Young University in Utah hope to alleviate this problem by giving Tanzanians an efficient and inexpensive way to obtain drinking water. For their senior capstone project, they have designed a human-powered drill that can dig a freshwater well much faster than many more expensive devices.
Challenged by instructors to find a solution for a real-world problem, the engineering students teamed up with WHOlives.org, a non-profit organization working to provide safe water, health care, and entrepreneurship opportunities to impoverished regions. Together they came up with the innovative drill. Operated by four people, it can create a 250 foot-deep, 6 inch-wide hole in just a few days.
In addition to its digging power, the drill also boasts an easy-to-(dis)assemble framework, and uses no gears or custom materials. Operation is simple: three people spin the wheel that powers the drill bit, and a fourth person moves the bit up and down when more power is needed. Excess dirt is removed from the hole by a pump. While comparable drilling projects in Tanzania can cost up to $15,000, the students' invention only runs about $2,000.
According to the founders of WHOlives.org, a drill like this has the potential to bring much-needed water to millions of people. The organization currently is focusing its relief efforts in Tanzania, but plans to expand its reach in the future.
Watch a video about this incredible project here:
Images: Brigham Young University
Filed under: e-News, Environmental, Mechanical
Tags: Environmental, Giving Back, Mechanical