Posted on
May 4th, 2011
by jxh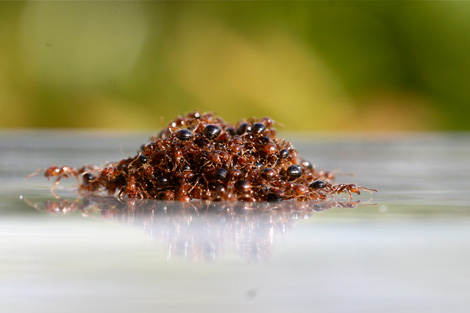 After closely studying the biomechanics of
cats, dogs
, and
jellyfish
, engineers are turning their attention to more bothersome critters:
fire ants.
Engineers at the Georgia Institute of Technology examined the notoriously feisty ants more closely and discovered that the hairy surface of their rough skin makes it difficult for water to penetrate, much as duck feathers repel water because of their tiny bumps. Their work could lead to the development of new and better waterproof materials.
When fire ants are in danger of drowning, they engage in a surprisingly effective survival mechanism: groups of insects – sometimes thousands – will pile together, lock legs and jaws, and form a living, crawling life raft that can survive for months.
Individual fire ants, when dropped in water, struggle and flail. A close inspection, however, reveals a thin layer of air clinging to the swimmer. When many ants come together, proximity pushes each ant's individual air bubble against the next ant's. Their bubbles join and thus protect the whole raft and its cargo.
When the ants interlock like this, their raft is not just stronger – it is more buoyant and airtight. Even the bottom layer of ants stays dry. This rafting behavior likely evolved because fire ants hail from frequently flooded regions of Brazil and Argentina.
In addition to helping researchers build better waterproof materials, robotics engineers say that fire ants could provide the blueprint for a system of programming many simple robots to work together on a task, which could achieve larger goals than one large robot.
Image: Georgia Tech
Filed under: e-News, Materials
Tags: Biomimicry, Materials, Robotics