Posted on
November 18th, 2010
by axb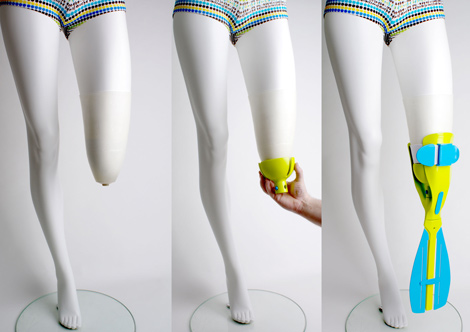 Fit and athletic amputees – like sprinter/long-jumper Aimee Mullins – have proved over and over that the loss of a limb is no reason to give up sports. Earlier this year, Colombian Nelson Cardona became the first amputee to climb Mt. Everest, Earth's highest peak.
But prostheses for swimmers have remained clunky, at best.
That's why Richard Stark, an industrial design student at Sweden's Umea Institute of Design, was inspired to create Neptune, a specially-designed prosthesis that helps amputees swim.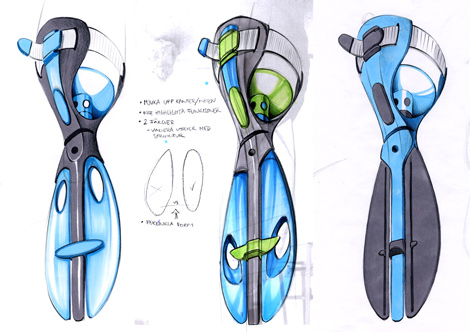 An early sketch
The colorful but functional superflipper was built with competitive swimmers in mind, providing enough resistance for training and plenty of flexibility to maneuver in the water.
The limb rests in an adjustable cup-shaped holder, and the fin itself consists of a rigid center strip and two flexible flaps. The flaps can be adjusted to require different degrees of muscle power. The fin also rotates 90 degrees so it can accommodate side kicks for breaststroke and up-and-down motions for freestyle, backstroke and butterfly.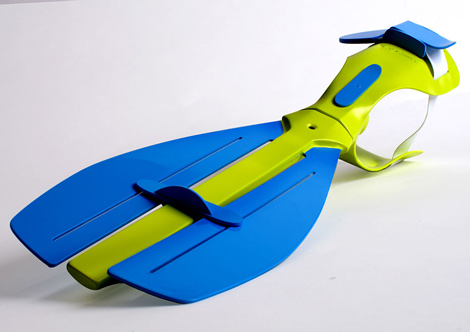 The final design
Throughout the design process, Stark consulted with competitive amputee swimmers to make sure that Neptune fit their needs. And judging from this video, it works swimmingly:
Images courtesy Richard Stark
Filed under: Biomedical, e-News, Mechanical
Tags: Biomedical, Design, Mechanical, Prosthetics