Posted on
November 22nd, 2010
by jxh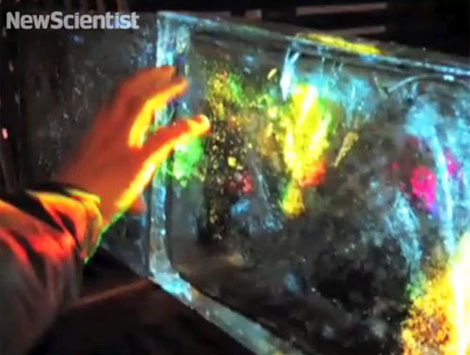 This brings a whole new meaning to "freeze frame": a team of engineers in Finland has created the world's first ice touchscreen.
The device was inspired by the Finnish tradition of building snow and ice sculptures during long winters and built by a team of Nokia researchers. In a New Scientist interview, a team member says of the inspiration for the project: "We decided to see if we could make an ice sculpture that was interactive."
Turns out they could. The team used a chainsaw to cut a one-ton, 25-centimeter-thick chunk of river ice into multiple 50-centimeter-sqaure slabs. They then created an ice wall out of the blocks and blasted the surface with a heat gun to ensure a smooth surface. The wall became interactive through digital projection technology and rear-diffused illumination (RDI).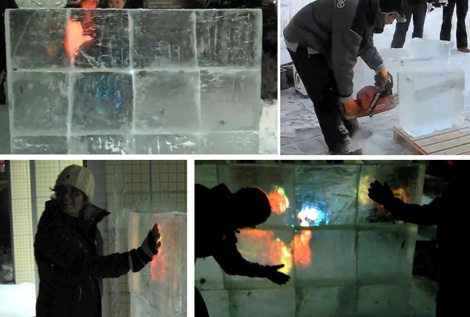 A near-infrared light was mounted behind the wall and covered the surface in invisible light. Also behind the wall were near-infrared cameras that focused on the front of the surface.
When a hand is placed on the ice, it reflects light towards cameras, and the signal that the cameras receives helps a nearby computer determine the hand's position, size, and motion. The computer is also connected to a projector, which uses the data to project colorful imagery onto the ice wall.
The icy design is a playful experiment that demonstrates that interactive computing interfaces can be built just about anywhere.
Images:
New Scientist
User Interface Technology