Posted on
November 18th, 2010
by axb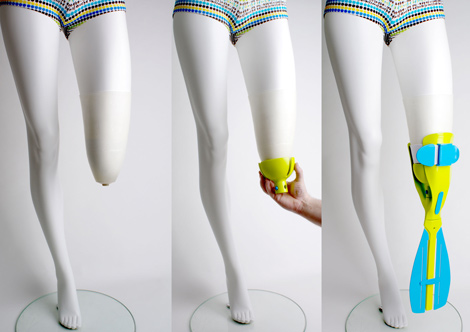 Fit and athletic amputees – like sprinter/long-jumper Aimee Mullins – have proved over and over that the loss of a limb is no reason to give up sports. Earlier this year, Colombian Nelson Cardona became the first amputee to climb Mt. Everest, Earth's highest peak.
But prostheses for swimmers have remained clunky, at best.
That's why Richard Stark, an industrial design student at Sweden's Umea Institute of Design, was inspired to create Neptune, a specially-designed prosthesis that helps amputees swim.
Filed under: Biomedical, e-News, Mechanical | 3 Comments »
Tags: Biomedical, Design, Mechanical, Prosthetics