Posted on
March 11th, 2011
by axb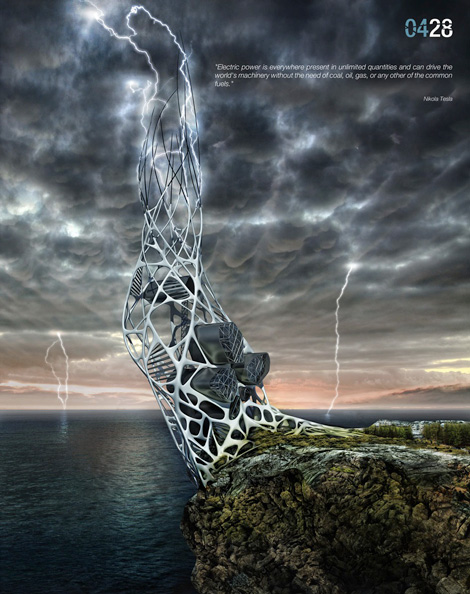 The structure may resemble a postmodern radio tower or perhaps the lair of a James Bond supervillain, but it's actually designed to be a hydrogen power plant.
Hydra, named after a tubular freshwater creature, is listed as an honorable mention in this year's eVolo Magazine Skyscraper Competition (see more winning designs here). Its creators hail from Serbia, and include Milos Vlastic, Vuk Djordjevic, Ana Lazovic, and Milica Stankovic.
The most remarkable aspect of this structure is its ability to harvest energy from lightning bolts, which is then stored in several huge batteries at the base. Collecting electricity from such a high-voltage source is a brilliant approach to making hydrogen fuel (which, although requiring massive amounts of energy to make, can be used to cleanly power just about any vehicle).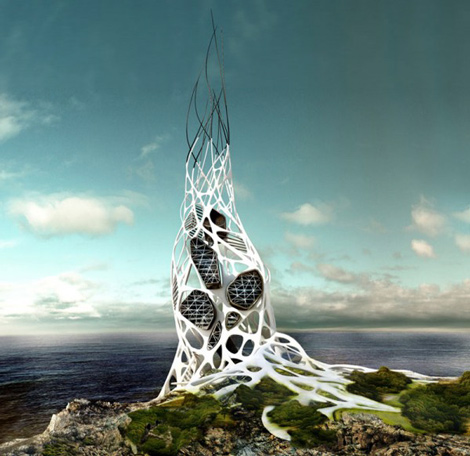 When a storm strikes, the tower's highly conductive graphene skin captures electricity and eventually uses the stored energy to split water molecules, producing hydrogen gas. The plans also incorporate research labs, as well as recreational spaces for scientists and their families.
While we would be slightly hesitant to move in to such a structure, there's no denying its coolness and its potential as an innovative source of clean energy.
Images: eVolo Magazine
Filed under: Architectural, e-News, Environmental
Tags: Architectural, Energy, Environmental, renewable energy