Posted on
February 1st, 2011
by axb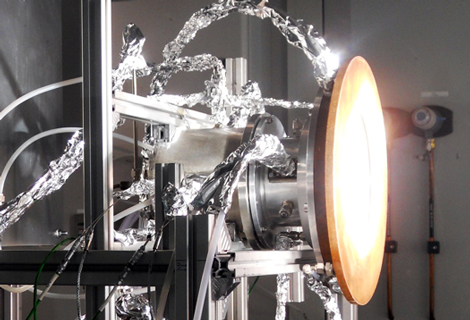 Every hour, the sun beams down more energy than the whole planet consumes in a year. Although solar cell technology has advanced considerably in recent years, many challenges related to reliably capturing and storing the sun's energy still remain.
Sossina Haile, a professor of Materials Science and Chemical Engineering at CalTech, is developing a new approach to solar power. Using cerium oxide (or ceria), a metal most commonly found in self-cleaning ovens, Haile and her research team have created a prototype reactor that has the power to transform sunbeams into clean fuel.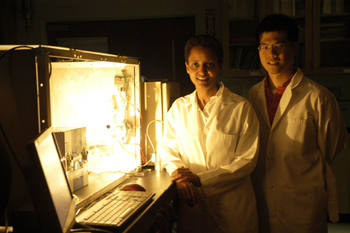 Professor Sossina Haile and grad student William Chueh next to a thermochemical reactor used to screen materials for their new solar reactor
The reactor has a window made of quartz that focuses the sun's rays like a magnifying glass into its core. There the ceria works to catalyze a solar chemical reaction, producing hydrogen and carbon monoxide. The hydrogen can be used in hydrogen fuel cells, which help power hybrid cars, buses, and airplanes. Carbon monoxide is useful in the creation of liquid hydrocarbon fuels.
Here's the catch: for all of these reactions to work, temperatures in the reactor need to be extraordinarily high – around 3,000 degrees Fahrenheit. Haile's team was able to achieve these conditions by testing their prototype at the Solar Technology Laboratory at Paul Scherrer Institute in Switzerland.  The lab's High Flux Solar Simulator can produce the equivalent heat of over 1,000 suns.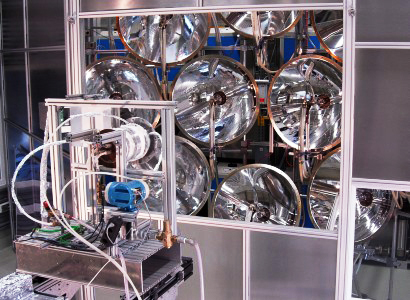 PSI's High-Flux Solar Simulator can mimic the power of 1,500 suns
The new solar reactor performed remarkably well in tests, harnessing close to 1% of the solar energy it received (a high number by today's standards). In the near future, Haile says she would like to bring the efficiency up to 15%. Long term goals include incorporating this new technology into large-scale energy plants, where the power of the sun as well as CO2 emissions could be recycled and converted into fuel.
Images:
Caltech/ETH Zurich
California Institute of Technology
Paul Scherrer Institute
Filed under: Chemical, e-News, Environmental, Nuclear
Tags: Chemical, Energy, Environmental, Green Technology, Nuclear, renewable energy, Solar