Posted on
July 21st, 2010
by jxh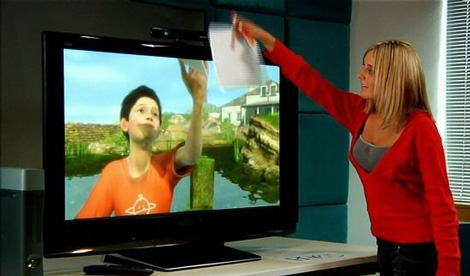 Meet Milo: the boy who can recognize your face, voice, and emotion; comment on the color of your shirt; or respond to your physical movements.
If you hand him a drawing, Milo will reach out, grab it, and comment on the drawing's shape and color.
None of that may seem particularly unusual – except that Milo is a virtual creation, a milestone in gaming created by U.K. game designer Peter Molyneux.
Unlike other gaming experiences, interacting with Milo almost feels like being with a real person: You can reach for the computer screen and splash the water in Milo's pond, while he can throw you a pair of goggles.
Milo comes to life thanks to Microsoft's Kinect, a new hands-free Xbox 360 controller that is able to interpret its user's intentions using a series of cameras, microphones, and sensors.
Molyneux developed his virtual character using Microsoft technology and artificial intelligence created by Lionhead studios.
After 45 minutes, Milo will recognize you, and your experiences with him will shape and change the course of his life. Thus, no two Milos can ever be the same.
You will shape his reality . . . but will he shape yours?
Think about what all this might mean for our future.  Do you agree that Milo is the coolest advancement in virtual gaming ever?
Or do you feel that artificial intelligence this sophisticated could become dangerous, as we've seen in the movies I, Robot and The Matrix?
Need to see it to believe it? Watch the video below:
Image: IGN
Tags: Computer, Video Games, Virtual Reality