Posted on
July 11th, 2012
by Mary Lord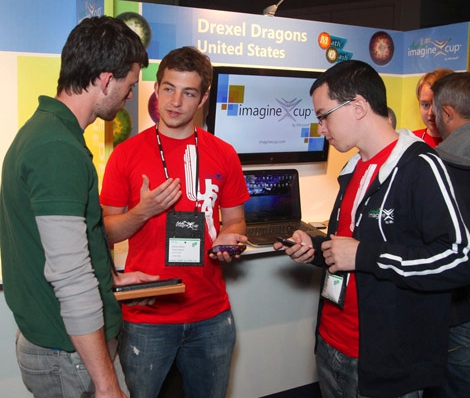 Searching for the next Bill Gates or Steve Jobs?
Look around your classroom. Or rather, check out Sydney, Australia, where science, technology, engineering, and math students from every continent competed to solve the world's toughest problems at Microsoft's 10th annual Imagine Cup.
Student projects tackled such United Nations' Millennium Development Goals as improving education, ensuring environmental sustainability, and fighting diseases. All relied on Microsoft technology, including the Kinect for Xbox 360 or Windows 8. This year, more than 350 students – most computer science and engineering majors – from 106 teams representing 75 countries vied for $175,000 in prizes and the advice and support needed to turn their prototypes into a reality.
This year's first-place winners included the Drexel Dragons from the United States for a phone game called Math Dash, and a German team's innovative navigation system called Greenway that significantly reduces CO2 emissions from cars by orchestrating traffic through a distributed routing algorithm and actively preventing traffic jams.
The $10,000 People's Choice award went to The D Labs, a four-student team from India, including one from a fashion institute, that developed a project to help dyslexic children learn. Their device records details about the child's activities and then creates customized learning games and exercises.
Watch The D Labs demonstration from India's national Imagine Cup finals:
Getting to the worldwide finals is a year-long process for the 250,000 students whose teams compete in local, regional, and online competitions until school lets out. Each country's national finalists advance to the worldwide finals.
Teams get just 35 minutes to pitch their project, typically a prototype or pilot tested, to a panel of judges from academia and the tech industry. They get grilled on everything from concept and design to the project's feasibility – great experience for learning how to pitch to a team of potential investors.
Even losing teams don't leave empty-handed. The competition includes sessions to help teams figure out how to develop projects into real products. "The project isn't about technology," explains Andrew Lin, a member of Australia's StethoCloud team, which designed a stethoscope that can diagnose pneumonia—the number one killer of children worldwide. "It's about saving lives."
Filed under: e-News, Explore Engineering
Tags: computer engineering, Computer Science, contests for students, environmental engineering, global challenges, grand challenges, Imagine Cup 2012, Microsoft, STEM education, student competition, Sustainability, Technology, Technology Contest