Posted on
July 6th, 2012
by Mary Lord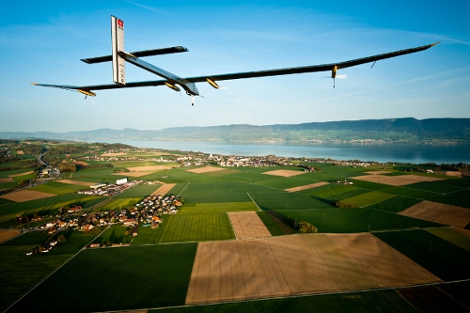 By Mary Lord
In Greek mythology, flying too high cost Icarus his life when the sun melted his waxen wings. Today, solar energy factors in another epic flight – and the Internet lets anyone witness aviation history in the making.
The Solar Impulse, a huge but ultralight aircraft powered entirely by solar power, began an ambitious attempt to cross the Atlantic in late May. The latest leg took the plane from Spain to Morocco.
See the Solar Impulse's maiden voyage:
The project's two pioneers have substantial aeronautical experience. Psychiatrist Bertrand Piccard made the first nonstop around-the-world balloon flight. His co-founder, André Borschberg, is an engineer and professional airplane and helicopter pilot.
The aircraft they're flying is similar to an Airbus340 in size but weighs about the same as the average sedan.  The Solar Impulse's 12,000 solar cells provide power to four electric motors, allowing the carbon fiber fuselage to take off silently and fly day or night.
One of the plane's coolest features, however, is how easily arm-chair pilots can put themselves in the cockpit. At SolarImpulse.com, visitors can track the flight in a variety of ways, including breathtaking live video feeds from inside and outside the aircraft. Digital cockpit instruments display such real-time readings as ground speed, heading, altitude, and solar generator power, while a Google map also tracks the aircraft's progress.
Will Solar Impulse revolutionize air travel? "Our airplane is not designed to carry passengers, but to carry a message," co-founder Piccard says on the project's website. From the start, adds Borschberg, "we understood that our primary goal was to save energy."
Filed under: Aerospace, e-News, Explore Engineering, Mechanical, Transportation
Tags: Aeronautics, Aerospace Engineering, aircraft, Aviation, exploration, Solar, Solar Impuse, solar power