Posted on
July 26th, 2012
by aseeadmin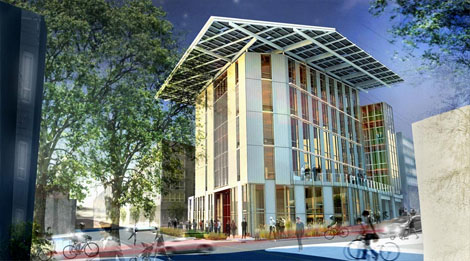 To get a LEED (Leadership in Energy and Environmental Design) platinum certificate, a building must cut energy use to about half that of a typical structure. That's tough. What's tougher? The Living Building Challenge (LBC).
According to Time magazine, the LBC was created six years ago, and to win certification a building must use half the energy of a LEED platinum building and have net-zero energy and water systems. So far, only three buildings have managed that feat, and they're quite small. However, a six-story, 4,600-square-meter office building will open this fall in Seattle that's aiming to meet the LBC requirements.
The $30 million Bullitt Center will house the Bullitt Foundation, whose president is Denis Hayes, a former staff director who worked with Earth Day founder, former U.S. Senator Gaylord Nelson. For heating and cooling, the building will tap into 26 geothermal wells some 120 meters deep, Time says. The frame is made from wood designed to last 250 years. To cut the carbon dioxide emissions from its cement, the building will use a mixture that includes fly ash and rebar that is 95 percent recycled. Of course it has solar panels, with sunlight supplying 82 percent of the lighting. Composting  toilets need no flushing.
Buildings consume 48.7 percent of U.S. energy, making them a good target for conservation, the newsweekly notes. Buildings are also responsible for roughly half of the country's CO2 emissions.
Watch Denis Hayes talk about the Bullitt Center:
Image Courtesy of the Miller Hull Partnership
Filed under: Architectural, Civil, e-News, Environmental, Materials
Tags: Architectural, Bullitt Center, Civil, construction, Denis Hayes, Design, Electricity, Energy, Environmental, Green Technology, LDC, LEED, Materials, recycling, solar power, toilet