Posted on
June 30th, 2010
by jxh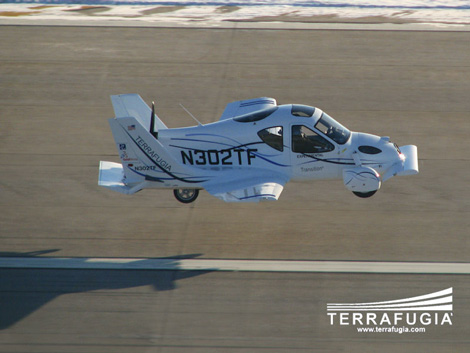 While the Jetsons lived in the far-off year 2062, one aspect of their futuristic world will become a reality next year: flying cars!
We previously reported on the Transition, the two-seater drivable aircraft that the Massachusetts company Terrafugia has been developing over the past four years.
The Federal Aviation Administration recently approved the vehicle, and the company expects it to be available by the end of 2011.
Designed by a team of MIT engineers, the Transition can drive on roads and highways, fly for 460 miles, and fit into a regular-sized garage.
Federal approval of the vehicle was delayed because it is 110 pounds over the weight limit for a light sport aircraft, a result of all the safety equipment it needed to satisfy both aviation and federal motor vehicle standards.  But now, the Transition has been granted a special exemption.
Because of its added safety features for road driving, the Transition has better crash survivability than most light sport aircraft. And if conditions turn bad up in the air, it can simply land and drive home.
Not only that, but the Transition will be the most environmentally friendly plane in the skies because it runs on normal unleaded gasoline instead of aviation fuel.
Unfortunately, however, the vehicle isn't as fast as traditional small aircraft, and it lacks the range and cargo capacity of other planes its size.
Those of you hoping to get behind the wheel of the Transition will need both a pilot's license and a driver's license – as well as cash to cover the costs: retail price is expected to be $194,000.
With 70 orders already received by Terrafugia, it seems as though our world will resemble the space-age reality of the Jetsons sooner than we thought!
Image: Terrafugia
Filed under: Aerospace, Civil, e-News, Transportation
Tags: Aerospace, Aviation, Cars, Civil, Mechanical, Transportation