Posted on
September 30th, 2009
by jxh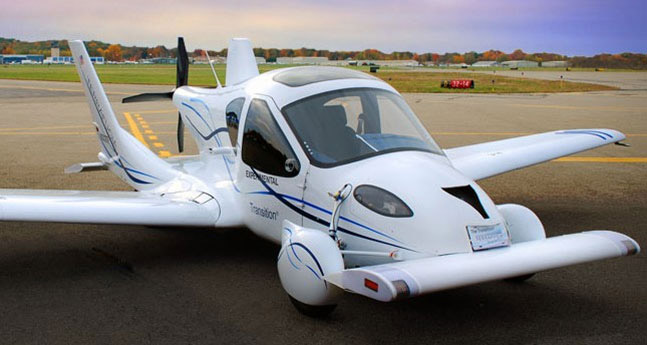 Have you ever been stuck in traffic and wished that your car could just take to the skies?
In 2011, the Transition may make it happen. It's a drivable aircraft currently being developed by the Massachusetts company Terrafugia.
Owners of the 2-seater Transition will be able to drive from their garage to an airport, where they can take off and fly within 460 miles. The estimated cruising flight speed is 115 miles per hour. On the highway, the Transition won't have any problem keeping up with traffic: It can reach speeds of up to 65 miles per hour.
When operated as a car, the engine will power the front wheel drive. In flight, however, the engine will drive a pusher propeller. The carbon-fiber vehicle is powered by a Rotax 912S piston engine and will run on a single tank of regular unleaded gas.
This plane-car hybrid won't be cheap, of course. The estimated purchase price of the Transition is $194,000. But Terrafugia reports that fifty customers are already signed up, just waiting to soar above the traffic jams.
Image: Terrafugia
Filed under: Aerospace, Civil, e-News, Transportation
Tags: Aerospace, Aviation, Cars, Civil, Mechanical, Transportation