Posted on
June 28th, 2007
by als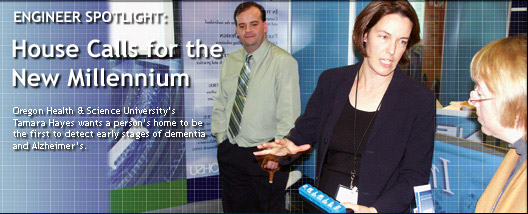 In the future, it may not be our family doctor, or our friends, or even our family who are the first to notice when our memory starts to slip. If Tamara Hayes' research is any indication, the first warnings that our health is flagging will come from our houses.
"I really do imagine a time when, rather than running off to a clinic to see what's wrong with me my doctor can get all my health information from data gathered by my house," says Hayes, a biomedical engineering professor at Oregon Health & Science University. In fact, she continues, the doctor can get better information because the house is a purely objective observer. It doesn't play hooky, and it doesn't try to appear healthier than it is.
Hayes' research involves gathering data from different types of sensors placed throughout a person's home. The information, she and her colleagues hope, will help ferret out behavioral changes that indicate the early stages of dementia and Alzheimer's. "The technologies themselves are pretty simple," Hayes explains. Her monitoring toolkit includes motion sensors, contact sensors, computer keyboard sensors and mouse movement sensors.
Hayes makes her patients play video games so she can see if they're progressing or if they're relearning the game's tasks over and over. There's even an electronic medicine box that records when people take their medicine. According to Hayes, people who have early memory loss were four times more likely to forget to take their medicine. That's a problem if the medicine is supposed to halt memory loss in the first place.
People don't usually realize when they are in the early stages of diseases such as Alzheimer's or dementia. If they experience any memory loss, they chalk it up to general forgetfulness or they just forget that they're forgetting. Because doctors see a patient only a few times a year, they often don't notice the signs until the disease has progressed to more advanced stages. This means patients get treated later when medications are less effective.
Because it's constantly monitoring a subject, Hayes' sensor system could pick up on early behavioral changes most doctors miss. She recently completed a study in which she used sensor data to compare the behavior of otherwise healthy seniors to those in the early stages of dementia. The underlying concept is that everyone has a pattern of behavior that's normal for them, Hayes explains. "When that pattern changes, it could be indicative of a medical problem." In this study, she found people with dementia tend to move around more and have a more variable routine than their healthy counterparts.
Hayes just started a more comprehensive sensor-monitoring study that will gather data from 300 people over the age of 75 for three years. During the course of the experiment, a substantial portion of the subjects will develop dementia or Alzheimer's. Hayes thinks that with the data she and her colleagues gather, they will be able to pick up on the more subtle behavioral changes that underlie larger health problems. "We'll be able to say, 'This is the indicator. We didn't realize it at the time, but now we know,'" she explains.
If the home monitoring sounds Big Brotherish to you, you're not alone. Hayes says she sometimes encounters that attitude from her younger students and colleagues, due in large part to the fact that younger folks don't usually need this kind of scrutiny … yet. "Older people don't feel that way," she notes. "I never have problems recruiting volunteers. They say they'll try anything that can keep them in their homes—and out of nursing homes—longer."
FOR MORE INFORMATION:
Filed under: Biomedical, Explore Engineering