Posted on
June 28th, 2007
by als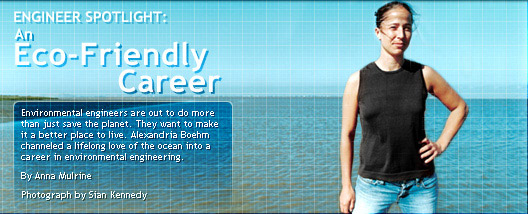 Alexandria Boehm grew up in Oahu, Hawaii, immersed in the ocean. "I spent a lot of time in the water," she recalls, "surfing, snorkeling, SCUBA diving." But when Boehm started college, "I didn't know I'd end up studying coastal waters," she says. "It just sort of developed that way." She does, however, remember what helped her decide to take up environmental engineering. In her mom's backyard in Hawaii, there's a canal. "We used to swim in there," she recalls. "But now it's so disgusting and polluted."
Today, as an environmental engineering professor at Stanford University, she brings groups of students back to the ocean she grew up loving. While recently investigating the microbes in coastal runoff that can sicken people and animals like sea otters, Boehm enlisted students to monitor the beach waters. But environmental engineers not only work to solve the problems of polluted runoff into ocean waters and wetlands, they also investigate ways to make air cleaner, and develop new methods of making water drinkable.
Throughout the course of their major, students at Penn State-Harrisburg learn about the design aspects of water treatment facilities by working in one and find out about wetlands by gathering water samples. Field work, says Charles Cole, the university's environmental engineering program director, "will hopefully balance the mundane and tedious courses like calculus, physics, and engineering graphics."
Environmental engineering majors also have to be a bit more familiar with biology and chemistry than the average engineering major, says Ryan Dupont, director of Utah State University's environmental engineering program. But, after four years of undergraduate coursework, environmental engineering majors can embark on a wide range of careers. One of Utah State's grads now works at Frito-Lay managing the waste that comes with the production of millions of pounds of potato chips. "He figures out how to make those products with less waste," Dupont says. Much of the work being done in Iraq these days revolves around the challenges of environmental engineering. Even the transmission of the SARS virus is an environmental engineering problem. "The sneezing and the coughing are symptoms, but it also means that you're contaminating surfaces," says Penn State's Cole. Environmental engineers study how disease can be transmitted in the air and from surfaces.
Back in California, Boehm teaches students that environmental engineering is an ever-changing discipline. One of the hot fields of study is called bioremediation—the process of using organisms to eat up, say, nasty oil spills. "If you feed the organism molasses, it will grow, and help to degrade waste products," Boehm explains. Environmental engineers are also just beginning to learn that common drugs like aspirin, Prozac, and ibuprofen are increasingly ending up in the ocean. Engineers study their potential effects, especially how they might interfere with the life cycles of marine organisms.
Boehm recently enlisted the help of a group from a nearby high school to collect water samples. She knows from her own surfing days that direct contact with the environment can help spark a lifelong interest in the subject. "You can learn about the tides and the waves," she says, "but when you're sitting on the beach for six hours straight, you actually see the tide coming up. That's what really drives their curiosity and their desire to learn more about it."
FOR MORE INFORMATION:
Filed under: Environmental, Explore Engineering