Posted on
October 28th, 2010
by jxh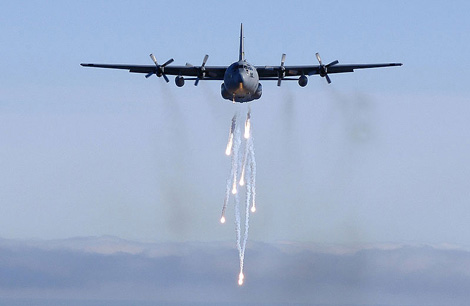 CLARIFICATION: Our original story, "Tree Bombs to Combat Deforestation," was based on a report by the blog Treehugger, which cited an original article published in 1999. We can find no indication that the idea ever received funding for trials or implementation. A corrected story follows:
Look up in the sky. It's a bird, it's a plane, it's … a tree?
In 1999, an MIT researcher designed a plan to take a fleet of old, unused C-130 Hercules cargo planes – originally created to drop land mines – and recommission them to drop "tree bombs" that would aid growth in deforested areas.
Instead of land mines, the planes would release tree saplings, each contained within an expertly designed cone that can bury itself in the soil at the same depth as if the seedling were planted by hand.
Instead of exploding on impact, the biodegradable casing of the cones would dissolve over time. The cones would also contain a measure of fertilizer and enough moisture to ensure that the sapling takes root.
Not only could the planes access remote areas, they could also plant a lot of trees: more than 3,000 a minute, or 900,000 trees in one day.
Deforestation is a serious problem around the world: it damages the habitats of wildlife, contributes to global warming, and results in significant soil erosion.
While this project has yet to receive funding for trials, surely reusing old planes to plant new trees is a project that will (hopefully) take seed.
Image: Inhabitat
Filed under: e-News, Environmental, Transportation
Tags: Aerospace, Environmental, Military, Transportation