Posted on
June 9th, 2011
by axb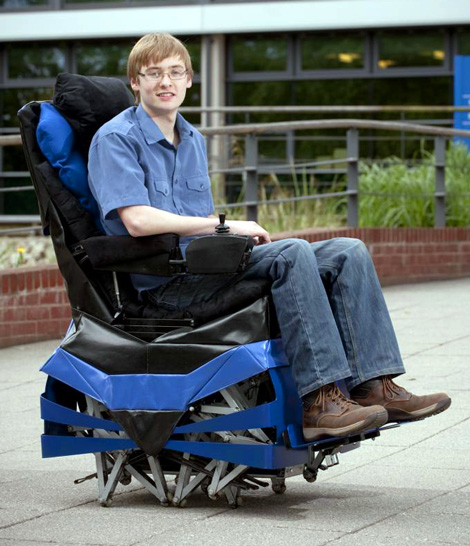 A product-design student in Derby, England, has invented a wheelchair alternative he hopes will give people with mobility issues more freedom, the BBC reported. Martin Harris, 21, noted that current wheelchairs are often restricted to paths. His battery-powered device "can work either indoors or outdoors – a leg can simply pick itself up and step over an obstacle."
The chair, which can be steered by a joystick in the armrest, has six pairs of legs underneath the seat that consist of 216 pieces bolted together. Two conventional wheelchair motors power the "walking" chair, which can travel at up to 4 mph – the maximum allowed for battery-powered wheelchairs.
Harris says the chair can negotiate almost any surface, including dirt, sand, grass, carpet, polished floors, and even  moderate slopes. What inspired him to design such a chair? None other than Theo Jansen's Strandbeesten, a series of skeletal, beach-roaming kinetic sculptures created by the Dutch artist and engineer.
Harris chose to use Jansen's design, which has been developed over several years, in a wheelchair "to provide a practical purpose for it." He sees many potential other uses for his invention, including in agricultural machinery or military vehicles.
Watch Strandbeesten in motion:
Image: University of Derby
Filed under: e-News, Mechanical, Transportation
Tags: Giving Back, Mechanical, Technology, Transportation