Posted on
June 7th, 2011
by jxh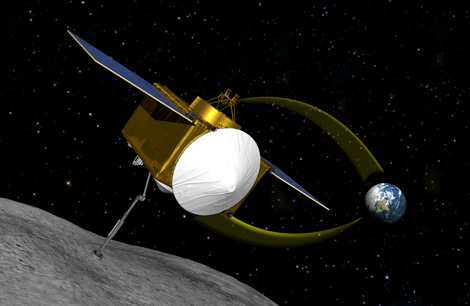 An artist's rendering of the OSIRIS-REx spacecraft touching asteroid RQ36
When the Earth was young, asteroids bombarded the planet and possibly deposited compounds that later formed the first molecules of life.
In an attempt to learn more about the formation of the solar system and the origins of life, NASA is preparing a billion-dollar mission that will send a probe to collect dust from the surface of a nearby asteroid.
The mission is called OSIRIS-REx, and it is set to launch in 2016. Four years later, the probe will arrive at a near-Earth asteroid called RQ36. Once within three miles of the asteroid, the science team will pick a location from where the spacecraft's arm will take a sample. The spacecraft will gradually move closer to the site, and the arm will extend to collect more than two ounces of material. Scientists will be able to sift through the unearthly material in 2023, when OSIRIS-REx is expected to return to Earth.
The mission marks the first U.S. attempt to sample an asteroid, a hunk of debris left over from the dawn of our solar system some 4.5 billion years ago. Telescope surveys of RQ36 have already revealed carbon-rich materials, which scientists believe could be the building blocks of life.
And for those who want to feel like they are making an outer space journey along with the probe, a high-definition camera will broadcast the landing onto the asteroid.
Image: NASA/Goddard
Filed under: Aerospace, e-News
Tags: Aerospace