Posted on
April 12th, 2012
by axb
Smartphone addicts everywhere will rejoice at Google's latest portable technology innovation: reality-enhancing eyeglasses. The glasses are a product of Google X, the company's secretive experimental research lab.
The specs function much like a smartphone or tablet computer, but without the extra bulk or the screen interface. Using voice-activation, they offer wearers the latest information pertaining to their surroundings, such as weather, transportation info, and directions to the nearest coffee shop. They even have a built-in camera that allows users to snap photos of interesting sights and to video chat with friends (watch concept video above to see them in action). According to the New York Times, the glasses could be on sale as early as next year, retailing for around the price of a new smartphone.
But futuristic glasses are hardly the only project that Google has its all-seeing eye on these days.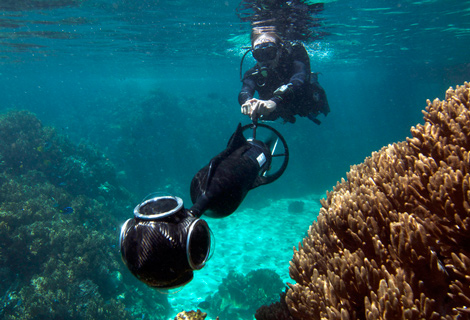 Now the search-engine franchise is taking its cameras to a much deeper place – 330 feet below the seas, where they'll snap panoramic photographs of Australia's Great Barrier Reef, an aquatic world of great natural beauty. The Catlin Seaview Survey is actually a scientific project. Come September, specially made 360-degree cameras will undertake three surveys around the nearly 1,400-mile-long coral reef, such as one that studies the effects of rising seawater temperatures on a variety of ocean fauna, including tiger sharks and green turtles.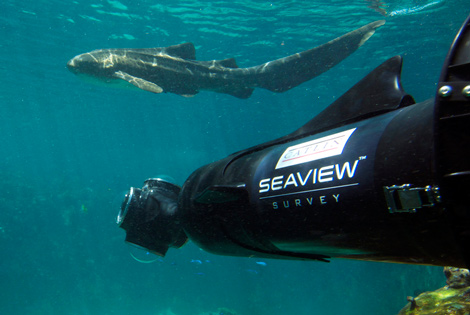 The study is the first comprehensive effort to discover the composition and health of the reefs. But the public gets to swim along. Initially, the images will be posted at catlinseaviewsurvey.com, but eventually will be added to Google Earth. Google's partners are the University of Queensland and Catlin Group, an insurance company. The researchers will also shoot videos of the reefs, eventually screening them on a dedicated YouTube channel. We click "Like."
Images via The Catlin Seaview Survey
Filed under: Computer, e-News, Environmental, Materials, Ocean
Tags: Computer, Environmental, Materials, Ocean