Posted on
March 30th, 2012
by axb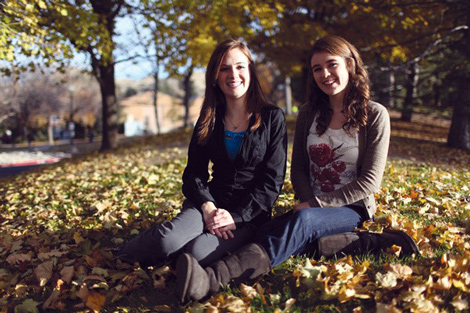 Jessica Ashmead and Annicka Carter are behind OptiGuide, a new medical device for lighting incisions during surgery
Ever dreamed of becoming an entrepreneur? If so, you're in good company – over half of U.S. millennials (ages 18 to 34) say they want to start a business or already have done so, according to a recent survey from the Kaufmann Foundation. Even more exciting is the fact that nowadays, starting a business does not necessitate leaving school, as more and more universities are striving to accommodate entrepreneurial students.
In this new eGFI blog series, we bring you four inspiring stories of undergraduate engineering students who have successfully patented their original ideas, teamed up with classmates and professors to launch businesses, and navigated the startup world, all while keeping up with their coursework.
So step aside, Bill Gates – the days of dropout turned entrepreneur may be numbered.
Everything Illuminated: Jessica Ashmead and Annicka Carter

An appropriately named INVENT! class gave University of Utah bioengineering majors Jessica Ashmead and Annicka Carter, both 20, the idea of starting a business. This novel approach to an introductory engineering course was designed in 2009 by Patrick Kiser, an associate professor of bioengineering. Students attend twice-a-week lectures on bioengineering fundamentals, while on Fridays they hear from a variety of innovators on topics ranging from acquiring patents to applying for grants. At the end of the course, students can opt to devise a theoretical solution to a current problem in the field instead of taking a final exam. Ashmead and Carter, friends and roommates, grabbed the first option — then took their project several steps further.
Their invention is based on "an idea that's fairly simple but extremely important," says Carter. It's a lighted surgical retractor. The instrument, widely used in surgery to hold incisions open, has several lighted versions on the market today. But most need A/C power cords, which often get in the way during surgery and can be difficult to sterilize. Many retractors are thus designed to be disposable. Ashmead and Carter's battery-powered retractor uses built-in LEDs as a light source. The OptiGuide, as they named their design, is reusable — all parts are easy to sterilize — and offers surgeons a portable, sustainable, and efficient way to light surgical cavities.
Here's a brief video presentation Ashmead and Carter made about their design:
Beyond creating a fully functioning prototype, Ashmead and Carter found patenting their idea to be one of their main challenges. "Being able to come up with exactly what your patent will claim is really difficult when there are so many [pre-existing] patents on little parts of your idea," Carter says. Fortunately, the INVENT! class and the university's Technology Commercialization Office provided connections to legal experts. The pair credit their bioengineering instructor turned adviser, Holly Holman, with being a mentor throughout the process.
To raise funds to develop their idea, the OptiGuide team members, like many young innovators, turned to student competitions with cash prizes. Utah's INVENT! course encourages participation in such contests and feeds into a statewide invention contest called techTITANS that Ashmead and Carter entered as part of the class. Though they didn't win, the experience motivated them to "enter as many competitions as we could," says Carter. They went on to win honorable mention and $5,000 in the national Collegiate Inventors Competition, sponsored by Kauffman, the U.S. Patent and Trademark Office, and the Abbott Fund, a nonprofit arm of the global healthcare company. Although Ashmead and Carter both are full-time students with part-time jobs, they insist OptiGuide has become their true passion. "We love it," says Ashmead. "If we could choose to do anything when we get home from work and school, we would prefer to work on [OptiGuide]," agrees Carter. "If we could, we'd spend all of our time on this."
Filed under: Biomedical, e-News, Mechanical
Tags: Biomedical, Mechanical, Student Inventors