Posted on
May 6th, 2010
by jxh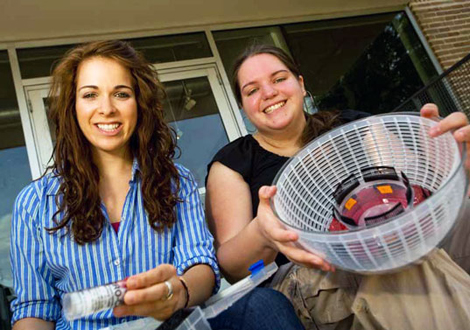 Two Rice University students have transformed a simple salad spinner into an electricity-free rotation device that can be used to diagnose diseases. The device would be able to separate blood in order to detect diseases like anemia, which can be an indicator of HIV, malnutrition and malaria.
Lauren Theis and Lila Kerr used a salad spinner, some plastic lids, combs, yogurt containers, and a hot glue gun to create a simple and easily-replicated tool for clinics in developing countries. Both students are minoring in global health technologies and were inspired to come up with their invention in a bioengineering course taught by top-notch prof Rebecca Richards-Kortum.
The salad spinner can separate 15 microliters of blood into plasma and heavy red blood cells after spinning for just 10 minutes. This so-called Sally Centrifuge will be tested on patients in Ecuador, Swaziland, and Malawi this summer for $30.
Photo: Jeff Fitlow/Rice University
Filed under: Biomedical, e-News
Tags: Biomedical, Giving Back