Posted on
August 6th, 2012
by Mary Lord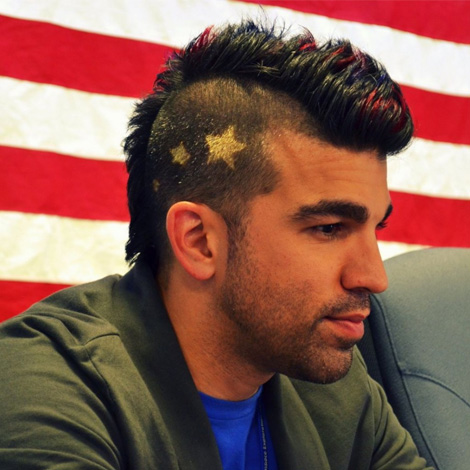 Photo: Twitter / Bobak Ferdowsi
On August 5, the world was riveted as NASA's rover Curiosity successfully survived "seven minutes of terror" to land successfully on Mars. But it was Mission Control systems engineer Bobak Ferdowsi who really turned heads–with his star-spangled mohawk.
The Activity Lead's colorful coif caused a social media stir and turned the "NASA mohawk guy" into an instant celebrity. Ferdowsi's Twitter following surged from 200 pre-landing to 16,000. Hundreds of email, Facebook friend requests, and marriage offers poured in. A Tumblr account titled "NASA Needs More Mohawks," features a now-iconic photo of Ferdowsi in the control room, with the caption: "Guides a rover through space and into my heart."
Don't be fooled by his trendy locks. Ferdowsi, 32, who changes his hairstyle for every mission, is a serious space engineer with almost nine years at NASA's Jet Propulsion Lab in Pasadena, Calif. His academic journey includes several years at MIT and an undergraduate degree in aeronautical and astronautical engineering from the University of Washington. While he has spent most of his NASA careers working on Curiosity, Ferdowsi, a self-described "exercise fiend" and softball player, also was a science planner on the Cassini mission to explore Saturn's rings.
As flight director on the Mars Science Laboratory Curiosity mission, Ferdowsi could afford to relax briefly after the rover touched down. But then it was back to business. He hopes his mohawk will boost interest in math, science, technology, and engineering. "It's a lot of fun," Ferdowsi told a reporter, adding that engineers don't have to conform to stereotype and wear skinny ties and glasses. "You can be whatever you want."
NASA engineers describe their "seven minutes of terror" before the Curiosity landed on Mars.
NASA's new look:
Filed under: Aerospace, e-News
Tags: Bobak Ferdowsi, Curiousity, Jet Propulsion Lab, Mars, mohawk, NASA, rover