Posted on
December 9th, 2010
by als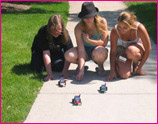 Dates: June 6-10, 2011. Level and Eligibility: Girls in grades 7 and 8. Location: Missouri University of Science and Technology, Rolla, MO. Cost: $350 – $380. Application Deadline: May 30, 2011
It's A Girl Thing
This week-long residential program is designed to provide a fun and introductory engineering, science and technology experience for girls entering 7th and 8th grades. Attendees will be exposed to the various science, technology, engineering and mathematics (STEM) careers and encouraged to explore their personal interests through group projects and design competitions.
Dates: June 6-10, 2011
Ages: Applicants should be entering 7th or 8th grade in August, 2011.
Cost: $350 (if registered by May 1, 2011), $380 (if registered after May 1, 2011) – includes housing, meals, t-shirt, activities, and all supplies (Fee will be refunded if not selected to attend)
Capacity: Camp is limited to 30 students (if camp is full you can request to be placed on a waiting list)
PROCESS FOR APPLICATION
Please note: Submitting the registration form does not guarantee acceptance or hold your place in camp. Registration is not complete until all forms and payment of $350 of $380 have been received; these must reach the MS&T office at least 14 days after your registration. If not received by then, your registration will be canceled.
Cancellation Policy: Persons wishing to cancel their registration must do so in writing by May 1, 2011 to receive a refund. Requests for refunds will be charged a $40 processing and cancellation fee. No refunds will be given after May 1, 2011. Please allow three to four weeks for processing refunds.

Helpful Links:
Filed under: Grades 6-8, K-12 Outreach Programs
Tags: Programs for Girls, Summer Camps & Programs (Students)