Posted on
October 19th, 2010
by jxh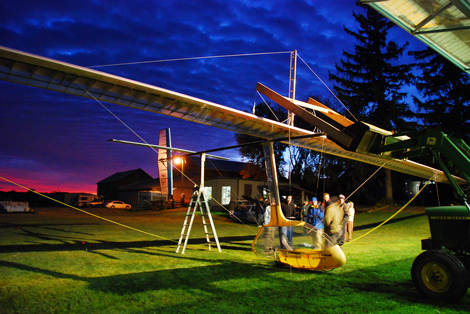 For the past four years, Todd Reichert, an engineering student at the University of Toronto, has been working to perfect one of Leonardo Da Vinci's greatest concepts – an ornithopter.
An ornithopter is a human-powered aircraft that flies by flapping its wings, and with the help of 30 other students, as well as $200,000, Reichert made history by building such a vehicle and piloting a sustained flight.
Called the Snowbird, the aircraft is made of carbon fiber, foam and balsa wood, and weighs less than 93 pounds. Its wingspan is 104 feet, which is comparable to that of a Boeing 737. The vehicle works by pumping a set of pedals attached to pulleys and lines that bring down the wings in an elegant flapping motion.
Leonardo Da Vinci conceived the ornithopter back in 1485. For much of his life, Da Vinci was fascinated by the phenomenon of flight and produced many sketches of flying machines; however, he never actually made one.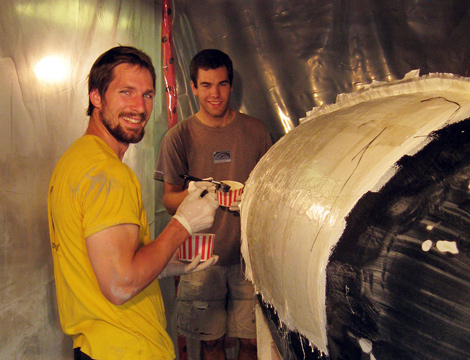 Todd Reichert (left) and fellow engineering student Cameron Robertson (right) work on the fuselage of the ornithopter
To prepare for the historic flight, Reichert endured a year-long exercise program in which he lost 18 pounds. He trained daily, focusing on his leg muscles, since he would have to pull on the wings while pedaling with his legs fast enough to fly.
After 65 practice flights, Reichert completed the first continuous flight of an ornithopter in front of the Fédération Aéronautique Internationale at the Great Lakes Gliding Club in Tottenham, Ontario. The flight covered over 475 feet in 19 seconds, maintaining an average speed of 15.91 miles per hour.
Even though the aircraft will probably never be flown again, the flight was a milestone achievement, and there is talk of the Snowbird being donated to the Canada Aviation and Space Museum in Ottawa.
For more details on the project and the team behind it, check out the Ornithopter Project blog.
Image: Faculty of Applied Science and Engineering, U of T/Flickr
Filed under: Aerospace, e-News, Mechanical, Transportation
Tags: Aerospace, Mechanical, Transportation