Posted on
January 29th, 2015
by Mary Lord
What if you want to travel across the country but don't have a driver's license or money to take a plane or bus?
If you're a cute little robot named hitchBOT, you hitchhike. And amazingly, humans offer you rides!
hitchBOT, which hails from Port Credit in Ontario and like Blue Man Group techno music, covered 3,700 miles across Canada in the summer of 2014 with the help of a dozen or so complete strangers who stopped along the way.
The project was the idea of professors from two Ontario universities, Ryerson and McMaster, to probe the evolving relationship between humans and technology.  The robot was cobbled together from a beer cooler, a transparent cake saver, and swimming pool floats for limbs. But it also came equipped with GPS, 3G wireless connectivity, and voice recognition software that enabled it to make small talk with the help of a Wikipedia application programming interface.
For power, hitchBOT had its own solar cells and could be plugged into a car's cigarette lighter. Written instructions on its cylindrical body describe the goal of the mission and direct people to a help website if all else failed.
During its three-week odyssey from Halifax, Nova Scotia, on the Atlantic Ocean to Victoria, British Columbia, on the Pacific coast, hitchBOT attended a gathering of aboriginal Canadians in western Ontario and even crashed a wedding — all while it continued to tweet about its adventures, transmit photos, and update its position to more than 30,000 followers.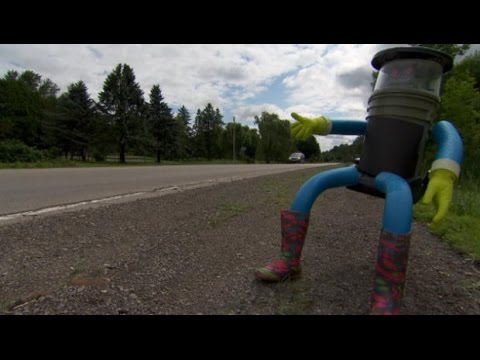 This article, written by Pierre Home-Douglas, originally appeared in the October 2014 issue of Prism magazine, published by the American Association for Engineering Education.
Tags: Artificial Intelligence, Canada, hitchBOT, hitchhiking robot, Ontario, Robotics, robots, voice recognition software