Posted on
July 19th, 2011
by axb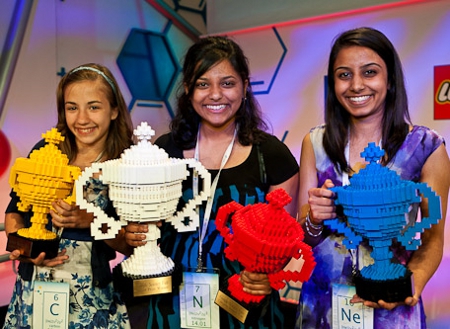 Winners (from left): Lauren Hodge, Shree Bose, Naomi Shah. Photo by Andrew Federman.
Teachers struggling to get girls jazzed about STEM take heart. Of some 10,000 students who competed in Google's inaugural global science fair, three young women swept to the top.
Fort Worth, Texas, high school student Shree Bose was interviewed on NPR's Morning Edition (7/12) about winning the grand prize for her work on drug resistance in treating ovarian cancer. "Throughout my entire life I've always loved science," she told reporter Wendy Kaufman. "I've loved watching it, doing it, understanding it mostly, and now to be able to explain science to other people, that's the biggest step for me as a scientist."
The other winners had equally impressive entries. Lauren Hodge, the 13-14 age group champion, studied how different marinades could reduce carcinogens in grilled chicken. Naomi Shah, who won the 15-16 age group, examined whether improving indoor air quality could reduce people's reliance on asthma medication. Despite their different projects, all three champions shared a sense of curiosity, noted the judges.
The winners also shared some cool prizes and LEGO trophies Shree received a $50,000 scholarship, a trip to the Galápagos Islands with a National Geographic Explorer and an internship at CERN. Naomi and Lauren each received $25,000 scholarships and internships at Google and LEGO.
As the NPR report noted, "world class science and technology companies are always on the lookout for talent and they hope competitions like this encourage more young people to study science and engineering." You go, Google girls!
Photo from Google blog.
Filed under: e-News