Posted on
July 20th, 2011
by axb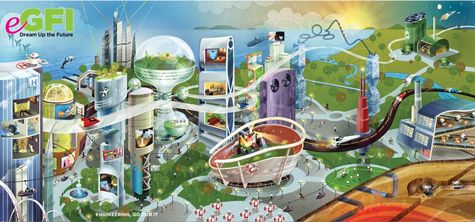 What's colorful, fun, packed to the brim with amazing engineering stories, AND coming to you this October?
Why, it's the fabulous fifth edition of Engineering: Go For It, of course! In our next magazine, look out for:
A gorgeous, tri-fold, eye-popping new cover (previewed above)
All-new articles featuring the latest, craziest engineering innovations
A fresh group of young, inspiring students and inventors
New ways that engineers are helping people and saving the planet
More good advice for aspiring engineers
Special web-only features, and much, much, more!
Over the next few months, we'll be giving our loyal blog readers and Facebook fans exclusive previews of what is to come. To start, here's a trailer featuring our exciting new group of engineering students:
If you're interested in sponsoring our new magazine, please find our sponsorship form here, and email it to G.Hill@asee.org.
Filed under: e-News, K-12 Outreach Programs
Tags: Books & Magazines