Posted on
April 6th, 2010
by axb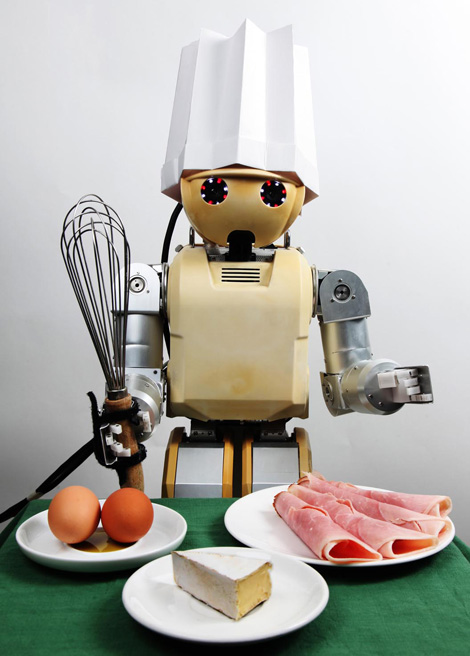 Four years ago, Fanxing Science and Technology of China created AIC-AI, "the world's first cooking robot," which can rustle up thousands of disparate Chinese dishes. Since AIC-AI burst onto the culinary scene, the New York Times reports, roboticists around the world have devised "a veritable army of new robots designed to serve and cook food."
Japan's Motoman SDA10 has spatula arms that can handle savory pancakes. The Famen restaurant in Nagoya, Japan, serves ramen, a soup, prepared by two giant robot arms. The Learning Algorithms and Systems Laboratory in Lausanne, Switzerland, came out with the Chief Cook Robot, which can make omelettes — provided someone first cracks the eggs.
Watch as the Chief Cook Robot learns how to cook an omelette:

"We figured, what better way to get people to interact with a robot than have something that offers them food?" Paul Rybski, a computer scientist at Carnegie Mellon University, told the Times. His team created Snackbot, which as the name indicates, is a robot designed to serve light meals.
Bon appetit!
Photo by Basilio Noris
Filed under: Computer, e-News, Electrical, Mechanical
Tags: Computer, Electrical, Mechanical, Robotics