Posted on
October 26th, 2010
by Jaimie Schock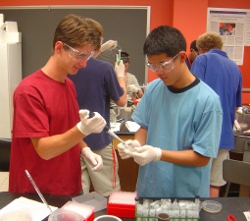 The USA Biology Olympiad, from the Center for Excellence in Education, involves nearly 10,000 students annually. It provides the motivation, curricular resources, and skills training to take them beyond their classroom experience to the level of international competitiveness.
After two rounds of challenging exams, 20 Finalists are invited to a residential training program where they learn advanced biological concepts and exacting lab skills at Purdue University. Ultimately, four students with the top theoretical and practical scores are selected to represent the USA at the International Biology Olympiad (IBO), a worldwide competition involving student teams from roughly sixty countries.
Since the Center began administering the USABO, every member of "Team USA" has received a medal at the IBO. The next IBO will be held in Taipei, Taiwan July 10 to 17, 2011.
Filed under: Grades 9-12, K-12 Outreach Programs