Posted on
November 18th, 2009
by jxh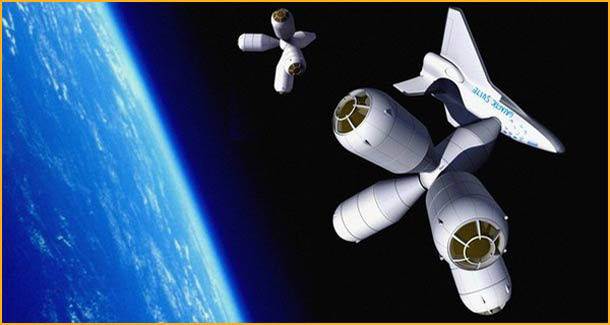 Need to get away for the holidays? Really far away? Try spending your next vacation in outer space.  In 2012, this idea might be a reality, as Galactic Suite Ltd. plans to open the first hotel in space.
During a stay in the space hotel, one would travel around the world every 80 minutes and see the sun rise 15 times a day.  Guests also wear a velcro suits so that, in the case that they grew tired of floating in zero gravity, they would be able to stick themselves to the walls and crawl around (a la Spiderman).
The Barcelona-based architects of The Galactic Suite Space Resort say it will cost $4.4 million for a three-night stay at the hotel.  While more than $1 million a night would make for a very expensive vacation, the price includes an eight-week training course on a tropical island.
Galactic Suite Ltd's CEO Xavier Claramunt, a former aerospace engineer, predicts that within 15 years, it will be common to spend a weekend in space.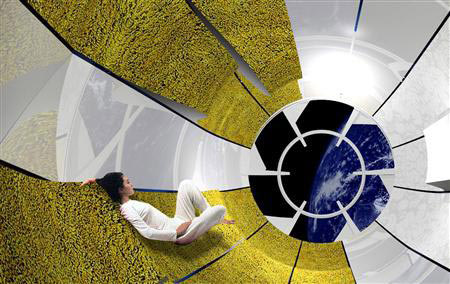 The company plans for its hotel to hold four guests and two astronaut-pilots, with the single pod orbiting 280 miles above the earth and traveling at over 18,000 miles per hour.
While more than 200 people have expressed an interest in traveling to the space hotel, at least 43 people have already made reservations.  However, critics do not believe it is realistic to expect the project to be complete by 2012.
Whether or not the hotel will be operational on time, master's degree students at Imperial College of London and the Royal College of Art designed solutions to the specific living conditions of a space hotel as part of their Innovation Design Engineering program.
To stay clean, the students designed a removable shower head that releases water and soap when in contact with the body and simultaneously sucks the water back up for recycling.  Meals would be served on a tray-table, with the selected food containers connected in rows by a robotic arm.  The students also designed an exercise wall and a daily routine of pulling elastic bands in time with lights and music to maintain muscle integrity while aboard.
Since passengers will have to contend with 15 sunrises and sunsets within a typical Earth day, the designers also decided to incorporate light-emitting diodes (LEDs) into the walls and storage spaces to leave the natural light coming from outside.  The exterior glass would darken and reduce the level of incoming light during Earth's night cycle to help passengers adjust to the new patterns of day and night.
Filed under: Aerospace, e-News
Tags: Aerospace, Space, Space Tourism