Posted on
September 15th, 2009
by als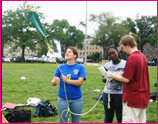 The Engineering Summer Program (ESP) is a FREE six-week residential program for students who will be high school juniors or seniors in the upcoming school year. The ESP course curriculum includes math, engineering, science, and technical communications. Other structured programming such as industry site visits, cultural enrichment activities, and faculty mentoring will help you gain a better understanding of the field of engineering and its disciplines.
ESP is targeted to high school students from groups traditionally under-represented in the STEM (science, technology, engineering, mathematics) field. African-American, Laotian, Vietnamese, Hmong, and Cambodian students are especially encouraged to apply, as are women from all backgrounds.
For more information, please contact the College of Engineering Diversity Affairs Office: 608)890-1319 diversity@engr.wisc.edu.
2640 Engineering Hall
1415 Engineering Drive
Madison
WI, 53706
Contact: Molly Davis
Grade Level: K-12, High School
Discipline: Science, Engineering, Mathematics, Technology
Website: http://studentservices.engr.wisc.edu/diversity/esp/program.html
Filed under: Grades 9-12, K-12 Outreach Programs