Posted on
June 27th, 2007
by als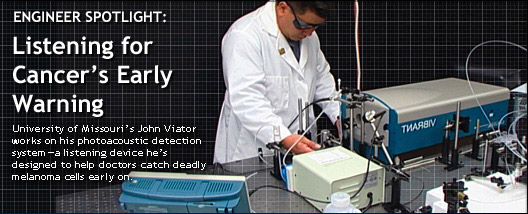 John Viator has an ear for skin cancer. Literally. Viator, a biomedical engineering professor at the University of Missouri, Columbia, fashioned the listening device out of a laser, special microphones and a computer interface. And while the setup doesn't look much like an ear—Viator calls it a photoacoustic detection system—he thinks it can help doctors "listen in" on deadly melanoma cells as they spread throughout the bloodstream.
Although melanoma is the rarest type of skin cancer, it is also the most deadly, accounting for nearly 74 percent of skin cancer-related deaths in the United States last year, according to estimates from the American Cancer Society. Melanoma's lethality arises from the fact that the cancer often goes undetected. It frequently looks like an innocuous mole, and by the time a patient realizes the discolored bump is something more serious, its cancerous cells have often metastasized—broken away from the original tumor and spread to other parts of the body.
Viator hopes to catch these metastasized melanoma cells early on, when chemotherapy has a better chance of killing them, thereby giving patients a better chance of survival. "Specifically, we're looking at circulating tumor cells in the bloodstream," he explains. Viator and his research team shoot a laser at a sample of blood. The laser light heats up the melanin in any melanoma cells that may be hanging around, forcing it to expand. As the melanin quickly cools down, it makes a unique cracking sound—inaudible to human ears—by creating ultrasonic waves. Viator records these noises with special microphones.
Since melanoma cells are the only cells in the bloodstream that carry melanin, the technique is excellent at detecting the disease specifically. Viator says the technique is so sensitive that he can find melanoma with only 10 cancer cells present. Doctors could use the technique to see if a patient's melanoma has metastasized, to judge how efficiently chemotherapy is working for someone with melanoma and to look out for the disease in people whose genes put them at a higher risk for developing it.
The technique is cheaper and easier than what doctors currently use to track melanoma, and it gives a quantitative measure of how many melanoma cells have made it into the bloodstream. "The most complicated part is drawing blood. The whole procedure should take 20 minutes," Viator says. He's already gotten a lot of interest from patients and is setting up a pilot study.
Viator became interested in the problem almost two years ago, when Paul Dale, the university's chief of surgical oncology, made a visit to the engineering department. "He said there are lots of problems in medicine that we really need engineers to tackle," Viator recalls.
It was a call that spoke to precisely what got Viator interested in BME in the first place. "The appeal of biomedical engineering was that it gave me the ability to make people's lives better," he says. "What could be better than being able to do what you love—engineering, physics and math—and be able to apply it to something that is as rewarding as healing people?"
FOR MORE INFORMATION:
Filed under: Biomedical, Explore Engineering