Posted on
October 1st, 2012
by Mary Lord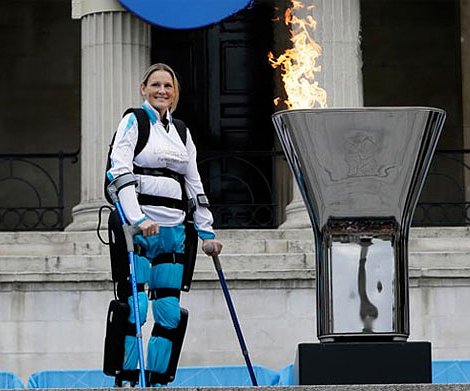 Attention Iron Man fans. Powered suits of armor like the one designed by fictional industrialist/engineer Tony Stark may soon save or improve the lives of real people.
In 2011, a motorized exoskeleton created by engineering students at the University of California, Berkeley allowed classmate Austin Whitney to walk across the stage to receive his diploma. Now, English athlete Claire Lomas is making medical history as the first paraplegic to use an exoskeleton to get around home and town.
Lomas, who was paralyzed from the chest down by a horseback-riding accident in 2007, walked a marathon and recently lighted the Paralympic cauldron in London's Trafalger Square wearing a device developed by Israel-based ARGO Medical. The ReWalk system supports the body's weight and allows the wearer to stand, sit, and move forward by tilting to indicate the desire to take a step.
Exoskeleton research has been going on for 50 years, but only recently have advances in software, sensors, and other technology made the machines practical. So far, most systems are found in specialized settings. Until Lomas suited up, for instance, the ReWalk exoskelton was used exclusively in rehabilitation clinics, with a therapist accompanying the patient and providing constant step-by-step guidance.
Dubbed the "Bionic Woman" by Britain's press, Lomas is the first to use an exoskeleton to independently move around her home, climb stairs, and walk around the neighborhood. Earlier this year, she suited up and completed the London Marathon, taking 55,000 steps in 17 days of often-wicked weather and raising about $350,000 for research on spinal damage. But routine activities, like standing up at a bar, are just as gratifying. "To be stood up in this means everything to me," Lomas told The Independent.
Watch Claire Lomas cross the finish line: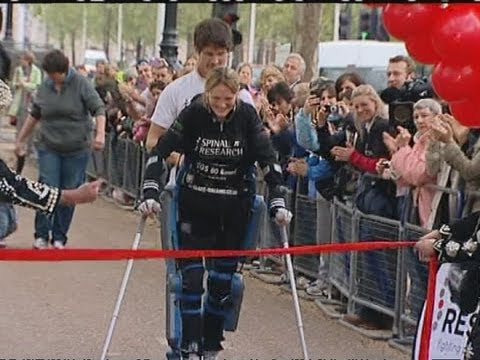 ARGO Medical estimates that 250,000 of the 6 million wheelchair users in America and Europe could benefit from the exoskeleton. Company chief Larry Jasinski hopes one day to see "ReWalking" as a part of daily life. The system's $70,000 price may deter potential customers, however. It's also slower on flat surfaces than a wheelchair.
For many paralyzed individuals, the benefits of independent movement outweigh the disadvantages. The military reportedly is interested in using exoskeletons for wounded warriors. U.S. defense contractor Raytheon has developed an experimental "wearable robot" that lets soldiers shoulder three times a typical load.
As for Lomas, her plans for the next year include a London-to-Paris bicycle ride using a special bike that artificially stimulates the paralyzed rider's own muscles to speed it along.
See how Claire Lomas gets into her robotic suit:
Filed under: Biomedical, e-News, Explore Engineering, Trailblazers
Tags: athelete, Biomedical, Claire Lomas, Electrical, exoskeleton, London Marathon, Paralympics, ReWalk, robotic suit, Robotics