National Engineers Week

. We at eGFI couldn't be more excited, and hope that you'll join the festivities. Many schools and universities across the nation have special events planned.

If you're near DC, you can visit us at

Discover Engineering Family Day

(Sat. Feb. 20 at the National Building Museum), where engineering daredevil

Nate Ball

will be demonstrating his ATLAS Ascender. Swing by the eGFI table and enter to win a free iPod Touch!

Learn More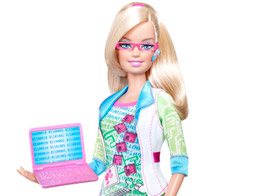 Mattel has announced that Barbie's 126th career path will be that of a computer engineer. This new techie Barbie comes equipped with a laptop, a Bluetooth headset, chic glasses, and a shirt that reads "Barbie" over and over in binary code.