cell phone

is cool now? With new ground-breaking enhancements, mobile phones are getting cooler than ever before.

Engineers are capitalizing on the recent popularity of

3-D technology

in movie theaters by creating a

cell phone that projects 3-D images

, and without having to wear any goofy glasses. Although it appears to be an average smart phone, when it is moved from a vertical to a horizontal orientation, the image on the screen becomes 3-D.


Learn More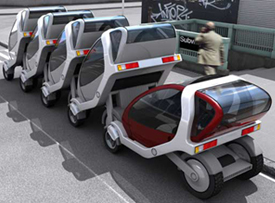 Say goodbye to urban driving woes:
Will Lark Jr., an engineer working at MIT's Media Lab, designed the City Car, a vehicle controlled through a computer that can fold in half, turn its wheels sideways, and parallel park with ease.
Learn More