Posted on
February 4th, 2011
by jxh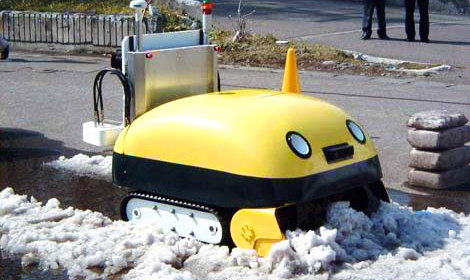 So far, 2011 has been full of winter storms and a whole lot of snow. And as a massive blizzard that just slammed the Midwest U.S. moves eastward, Japan might have a cute and innovative solution for scooping up the white stuff.
Not only can shoveling be too strenuous for some people, such as the sick or elderly, but it can also leave massive piles of snow in roads or sidewalks.
Instead, winter storm victims could enlist the help of the self-guided robot Yuki-taro, which eats up snow and then excretes little snow-bricks.
The handy snowbot is equipped with a GPS positioning sensor, two video cameras (one for each eye), and an internal snow-block maker. The bricks of snow that Yuki-taro produces are neat rectangular blocks that can be easily stacked. The snow-bricks could be stored for use in the summer as a source of refrigeration or to make awesome snow-forts and igloos.
While the prototype has been around since 2007, a marketable version of Yuki-taro (priced around $8,000) should be available within a few years.
Filed under: Computer, e-News, Electrical, Mechanical
Tags: Civil, Computer, Electrical, Environmental, Green Technology, Mechanical, renewable energy, Robotics