Posted on
September 30th, 2010
by jxh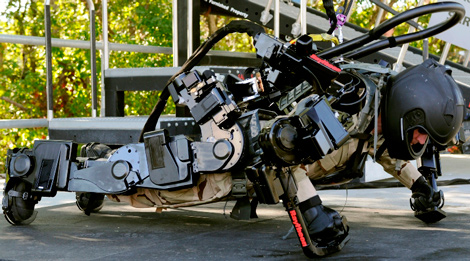 Imagine hefting 200 pounds as though it were a mere 12. Raytheon Company has just released a full-body suit that could make the Iron Man fantasy become a reality.
Called the XOS-2 Exoskeleton, it essentially grants the wearer superhuman strength (and also looks really awesome). The new suit has made significant improvements over its predecessor, the XOS-1, which was first demonstrated two and a half years ago.
The first important upgrade comes in the ratio between the weight lifted and the perception of that weight.  The XOS-2's ratio of 17:1 means that a 50-pound weight feels like only three pounds, a tremendous increase over the previous 6:1 ratio. This makes the suit faster, more precise, and more portable than a large machine when it comes to moving heavy objects. It also means that a single suited worker would be capable of doing the work of two to three non-suited workers.
A Raytheon test engineer demonstrates the smashing power of the XO-2
The second enhancement comes in weight: XOS-2 is 10 percent lighter than the original, clocking in at 195 pounds. That may still seem hefty, but demonstrators say the suit feels almost like wearing a winter jacket.  That will come as welcome news for the soldiers and construction workers who may be sporting this powerful suit.
Finally, the XOS-2 requires 50 percent less energy than its predecessor, making it much more environmentally friendly.
Check out the video below to see the suit in action:
XOS-2 Exoskeleton designer, Raytheon, is a leader in developing defense technologies.
Images via Raytheon
Filed under: e-News, Electrical, Mechanical
Tags: Electrical, Mechanical, Robotics